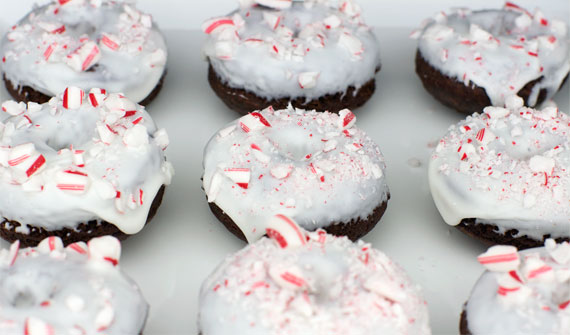 Happy holidays!  These are homemade chocolate cake donuts with vanilla icing and crushed candy canes.  When you read the name of this recipe, it sounds like I've just strung all the best words in the English language together:  Chocolate Christmas Candy Cane Cake Donuts. If you're looking for something to leave for Santa instead of milk and cookies… try these. You'll probably get a lot more presents.
I'll post complete recipes for the donut and icing below, but first… some advice.  Larger candy cane pieces make for great photos, but they're not so great for eating.  If they're too large, they have a distracting crunch.  I recommend pulverizing your candy canes until they're near dust with just a few small chunks.
When I make donuts, I always use two not-so-common ingredients.  If you have it, replace 2 Tablespoons of the all-purpose flour in the donut recipe with soy flour.  It will help deter oil absorption when they're in the fryer.  I also add a pinch of meringue powder to my donut icing.  That helps the icing firm up faster and results in more of a shell on the surface instead of a frosting texture that never really hardens.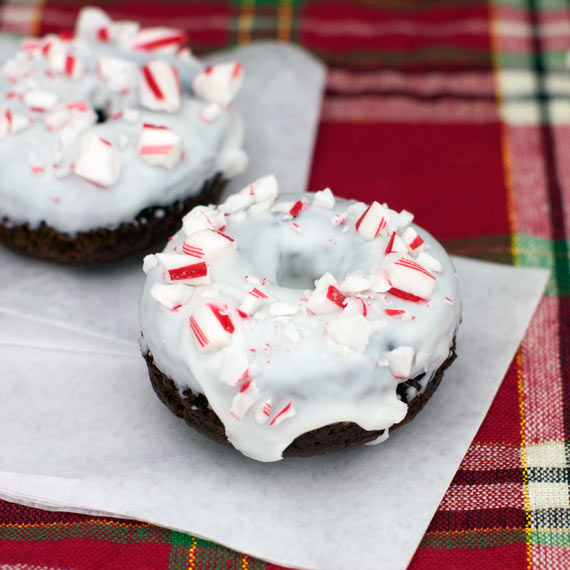 For best results when making cake donuts, chill the dough for a couple hours and work in two batches so some of the dough remains in the fridge while you're working the first batch.  This makes the dough easier to cut and work with.  When the dough is too warm, it becomes sticky and sloppy.
I won't lie.  Anytime you're making donuts, it's an involved process.  By the time you make the dough, chill the dough, cut the donuts, fry the donuts and ice and decorate the donuts, you're into it for several hours.  Personally, I love it.  I say put on some holiday music and make it a special time with family and friends.  Who knows?  Maybe it will be your new holiday tradition.