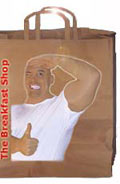 Home Page

Check out our


Product Reviews






A Real American Breakfast $23.07


275 recipes from two writers who obviously appreciate breakfast. Mr Breakfast gives them a thumbs-up because he's not there to give them a hug.

For $5.95, who cares if it's good. But here's the beauty... it is.

The Good Egg

From

$6.00

- Used


Marie Simons explores the incredible, edible egg in all its glory.

Omelettes, Souffles And Frittatas $9.72

sale


Lou Seibert Pappas explores egg dishes in this 94-page book. The chapter "Savory Omelettes" is worth the price of admission.

Scones, Muffins, And
Tea Cakes $10.78

sale


Scones finally get their due in Heidi Haughy Cusick's colorful book. Entertaining tips.

The Definitive Guide to Operating a Successful Bed-And-Breakfast

From

$4.00

Used


Learn how to turn your house or apartment into a bed and breakfast. Illustrations, charts & worksheets.
Amazon.com will occasionally update their prices. If an item's price differs from the price shown here, the price listed at Amazon.com will be correct. Please notify Mr Breakfast if you notice such a discrepancy. Recommendations are provided as a courtesy/for entertainment only.