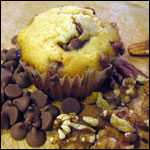 Chocolate Chip Muffins
2 cups all-purpose flour
1/3 cup light-brown sugar
1/3 cup sugar
2 teaspoon baking powder
1/2 teaspoon salt
2/3 cup milk
1/2 cup butter - melted and cooled
2 eggs - beaten
1 teaspoon vanilla
1 package (12 oz) chocolate chips
1/2 cup walnuts or pecans - chopped
Preheat oven to 400 F. and grease up twelve muffin cups.
In a large bowl, stir together flour, sugars, baking powder, and salt. In another bowl, stir together milk, eggs, butter, and vanilla until blended. Make a well in center of dry ingredients; add milk mixture and stir just to combine. Stir in chocolate chips and nuts.
Spoon batter into muffin cups; bake 15-20 minutes, or until a knife inserted in center of one muffin comes out clean. Remove muffin tin to wire rack; cool 5 minutes and remove from tins to finish cooling.
Serve warm.

A very reliable chocolate chip muffin recipe. Please read the user comments for this one. You may wish to adjust the amount of butter.
Mr Breakfast would like to thank
BethH
for this recipe.
Comments About This Recipe
What do you think of Chocolate Chip Muffins?
Overall Average Rating =

(out of 5)




From Funzo
I love this recipe! It's awesome!

Comment submitted: 10/12/2018 (#20648)



From Joya
OMG! First time making them. I'd say they are almost better than chocolate chip cookies!

Comment submitted: 12/6/2015 (#19683)



From Momma T.
Yum! So good. My new favorite muffin recipe!

Comment submitted: 11/27/2015 (#19670)



From Babz
My coworkers and family love them.

Comment submitted: 7/1/2014 (#18917)



From Momof2
Love this recipe. I make them in mini muffin pans. Then I wrap up 3 in a bag and give to the kids for a school snack. Cheaper and better tasting than the store bought.

Comment submitted: 1/2/2014 (#17235)



From UNC Mom
I've been using this recipe for 10 years. It never gets old with my family!

Comment submitted: 9/7/2013 (#16420)



From NeverBakedB4
It's perfect. It's the first time for me to bake and I was so afraid. I didn't add any extra to it, but I think more walnut will be great. Thank you so much for the wonderful recipe... all the family enjoyed it.

Comment submitted: 5/5/2013 (#15825)





From dandh (Team Breakfast Member)
Best Muffins Ever!!!

Comment submitted: 3/19/2013 (#15428)



From MamaGene
Very good. Grandpa (my husband) and the grand-kids all give it a great big thumbs up. I understand the people who think it has too many chocolate chips. I'm sure you could reduce that to 9 ounces and they'd still be good. But, we thought it was wonderful just as you wrote it. Thanks!

Comment submitted: 3/2/2013 (#15292)





From khaefs2008 (Team Breakfast Member)
I thought that this recipe had too much of a vanilla taste to it. Maybe a little less vanilla and they'd be perfect.

Comment submitted: 10/13/2012 (#14617)



From David J.
Making this for about my 5th time now. Turns out great every time.

Comment submitted: 9/13/2012 (#14400)



From blythe
Worked great for us. Didn't use nuts. Added 1/2 teaspoon cinnamon to the dry ingredient. Success!

Comment submitted: 8/21/2012 (#14315)



From Emma & Dakota
Me and my friend wanted a snack as our breakfast, and came across these. We figured that they would be good as mini-muffins. It made around 50. Delicious for the whole family.

Comment submitted: 7/27/2012 (#14194)



From goalie
OMG! They were so good. I didn't even know how they were going to turn out but... wow :)

Comment submitted: 6/30/2012 (#14092)



From Maow
Made these into jumbo muffins on Mother's Day! Replaced the chocolate chips with cinnamon chips, and they turned out lovely! Delicious!

Comment submitted: 5/13/2012 (#13904)



From Emily
I am NOT a regular baker, but I decided to be a little daring and make these for treats at work. I was pretty scared putting them into the oven because I had never made them before . . . I checked on them after 15 minutes and had to close the oven door immediately and hold on to my heart. They looked AMAZING! So amazing, in fact, that my roommates and I gobbled them all up and I ended up making a brownie mix for work. Delicious!

Comment submitted: 4/8/2012 (#13760)



From wayland
This muffin recipe was so good!!! A huge hit with my family. I did not add the nuts and the muffins turned out great. This is definitely a keeper!

Comment submitted: 3/25/2012 (#13719)



From LL Cool
I used 2 teaspoons of salt and more chocolate chips with raisins, that's also a delicious alternative!

Comment submitted: 1/27/2012 (#13475)



From Rachel
I used the exact recipe and the muffins came out more like scones - hard as rocks. Any tips? Add more milk, sour cream or eggs?

Comment submitted: 1/5/2012 (#13396)



From I. Chew
These muffins were a big hit with my friends. One even asked for the recipe. Thanks Mr B!

Comment submitted: 12/21/2011 (#13331)



View all 520 comments for this recipe.



---
Connect With Mr Breakfast: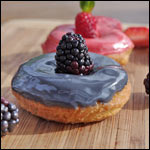 Berry Delicious Cake Donuts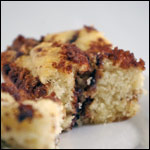 Cinnamon Flop (Coffee Cake)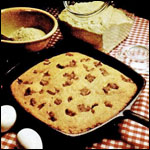 Bacon Spider Bread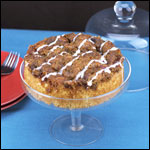 Strawberry Jam Coffee Cake

When's the last time you had breakfast in a cup made of bacon?
Click here
.