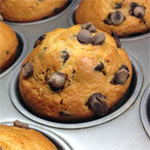 Cinnamon Chocolate Chip Muffins
1/2 teaspoon ground cinnamon
1 cup semi-sweet chocolate chip
1 3/4 cups all-purpose flour
1/3 cup sugar
2 teaspoons baking powder
1/4 teaspoon salt
1 egg - beaten
3/4 cup milk
1/4 cup vegetable oil
1/2 teaspoon vanilla
Preheat oven to 400 degrees. (Keep your eye on the muffins. Mr Breakfast received a note saying 400 was too high for one user. Reduce to 350 if your oven runs hot.)
Mix together the flour, sugar, baking powder, cinnamon and salt. Make a well in the center of the flour mixture.
In a smaller bowl, whisk together the egg, milk, vegetable oil and vanilla.
Pour the liquid mixture into the well of the dry mixture.
Mix until just moistened, then fold in the chocolate chips.
Distribute evenly into 12 greased muffin cups and bake for 20 minutes.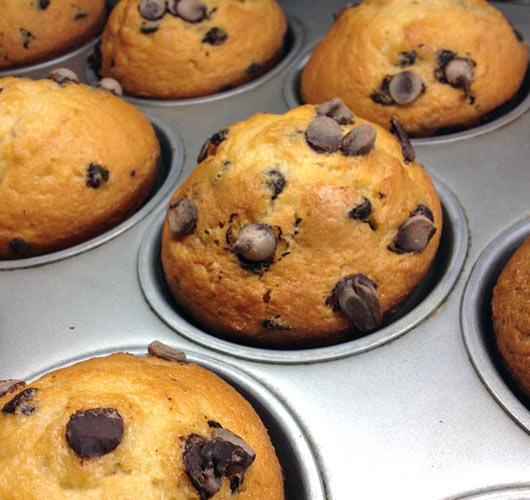 Cooking Note:
To make these muffins more decorative, let them bake for about 10 minutes and then sprinkle 5 or 6 chocolate chips over the top of each muffin. That way they'll stick to the muffin, but still (mostly) maintain their chocolate chip shape.

Two great tastes that taste great together - cinnamon and chocolate. Too make the muffins slightly healthier, replace 3/4 cup of the all-purpose flour with whole wheat flour.
Mr Breakfast would like to thank
muffin
for this recipe.
Comments About This Recipe
What do you think of Cinnamon Chocolate Chip Muffins?
Overall Average Rating =

(out of 5)

From DickieGreen
Worked good for us. If you sift the dry ingredients, you get a little more rise out of the muffins.

Comment submitted: 6/21/2016 (#19977)



From Jack D.
Batter was very thick and they didn't rise as much as I would have liked. But they tasted very good.

Comment submitted: 6/12/2015 (#19446)



From Roxanne
These were great. I doubled it and used the yogurt. Made some changes because the batter looked like it could use more flour and less water. Really good.

Comment submitted: 10/25/2011 (#13074)



From baking mama
I used a little more cinnamon than the recipe called for. I also found that it could have made more than 12 standard-sized muffins. I agree with the reviewer who said to cut down a little bit on the amount of chocolate chips.

Comment submitted: 2/7/2011 (#12081)



From LinaMaai
It was really delicious! I doubled this recipe, and I recommend that if you double it, use a little more milk and only 12 oz of chocolate chips. Also added cinnamon sugar on top and slightly more cinnamon. 350 degrees for 20 minutes works great!!!

Comment submitted: 12/17/2010 (#11733)



From JZ
It definitely needs more cinnamon. Overall, very yummy. My co-workers loved them.

Comment submitted: 3/17/2010 (#10081)



From MakingMuffins
I added two eggs and used bread flour instead, and it turned out great! Thanks for sharing.

Comment submitted: 6/15/2009 (#8295)



From Switzer
These were very good. I added just a hint more of vanilla and cinnamon than the recipe called for.

Next time, I would like to try adding some cherry pie filling to the batter... has anyone tried that yet?

Comment submitted: 7/12/2008 (#5868)





From dee71 (Team Breakfast Member)
I added dried cherries, used dark chocolate chips and 1/2 wheat, 1/2 white flour -- crazy good!

Oh, my batter came out REALLY thick (it started getting that way as I was stirring everything to that "just moistened" stage), so I added a little extra milk and everything came out fine.

Comment submitted: 4/13/2008 (#5041)



From Brand New Favorite
My husband's new favorite muffin, supplanting my orange-coconut ones.

Comment submitted: 8/30/2007 (#3471)



From Aki1Autumn
| | |
| --- | --- |
| Rating (out of 5): | |

It dosent taste very good, maybe I measured it wrong? How big is the cup supposed to be?

Comment submitted: 3/22/2007 (#1917)



From The Flake
Sooooo tasty. Only lasted two days around here, so I'm not sure how long they'll keep, but that probably won't be a problem.

I followed the recipe closely, except I eyed the cinnamon and vanilla and used whole wheat flour, which gives more texture. Delicious!

Comment submitted: 1/30/2007 (#1367)



From HFM
We used one teaspoon each, of cinnamon and vanilla. And we used milk chocolate chips instead of semi sweet chocolate chips. There were 7 girls at my house today, and all of us liked it, including both moms.

Comment submitted: 11/15/2006 (#734)



From Kendra /Korbihn
I noticed that you were looking for ways to vary this recipe. Here is what my two and a half year old son, Korbihn, suggested... that we add a couple of tablespoons of RASPBERRY JAM (or any other favorite preserve I'm sure would do the trick). I also substituted brown sugar in place of white sugar, which is something that I always do by nature.

They turned out super moist and very tasty... perhaps I have a budding chef on my hands! Thanks for the quick and easy recipe!

Comment submitted: 8/18/2006 (#102)



From Gerty
Hi everybody and hello from Germany. I "spruced" up the recipe substituding the milk with the equivalent in sour cream and extra cinnamon. They tasted lovely, moist, "chocolatey", absolutely yummy!!!!

Comment submitted: 6/26/2006 (#101)



From Julie S.
I cooked these muffins using olive oil(that is all i had in the house), followed Faye's suggestion to use 1 tsp of vanilla and 1 tsp of cinammon, and I also added about 1/3 cup fresh cranberries. I served the muffins soon after baking and they were delicious and moist without reheating!

Comment submitted: 5/7/2006 (#100)



From Faye
I just found your recipe and also noted the request for some ideas to 'perk up' the muffin recipe. I suggest that the cinnamon be increased to 1 tsp. from 1/2 tsp. and the vanilla be increased 1 tsp. from 1/2 tsp. Lillian?s idea (above)was very good also.

Comment submitted: 2/23/2006 (#99)



From Lillian
I printed your recipe out for this wonderful breakfast muffin. I noticed on the bottom of the page that you were looking for ways to "spruce up" the batter so it wouldn't taste so bland according to one of your readers. I thought I'd experiment this morning and I used 1/2 cup of fat free french vanilla creamer (the liquid kind) and then put 1/4 cup of 1% milk in it to make an equal to 3/4 of milk. It turned out so wonderful...l ight and delicious! It may sound strange putting coffee creamer in it, but try it... you'll LOVE it!

Comment submitted: 2/14/2006 (#98)



From Scott
| | |
| --- | --- |
| Rating (out of 5): | |

This recipe makes a very bland batter. Anyone have ideas how to perk up the mixture?

Comment submitted: 1/20/2006 (#97)




---
Connect With Mr Breakfast: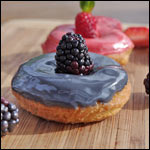 Berry Delicious Cake Donuts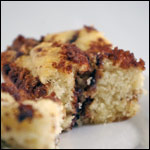 Cinnamon Flop (Coffee Cake)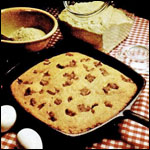 Bacon Spider Bread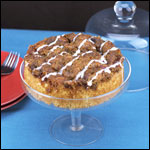 Strawberry Jam Coffee Cake

Check out our favorite vintage recipes from old magazine ads and recipe cards.
Click here
.