Cinnamon Chocolate Chip Muffins

(12 servings)

1/2 teaspoon ground cinnamon
1 cup semi-sweet chocolate chip
1 3/4 cups all-purpose flour
1/3 cup sugar
2 teaspoons baking powder
1/4 teaspoon salt
1 egg - beaten
3/4 cup milk
1/4 cup vegetable oil
1/2 teaspoon vanilla
Preheat oven to 400 degrees. (Keep your eye on the muffins. Mr Breakfast received a note saying 400 was too high for one user. Reduce to 350 if your oven runs hot.)

Mix together the flour, sugar, baking powder, cinnamon and salt. Make a well in the center of the flour mixture.

In a smaller bowl, whisk together the egg, milk, vegetable oil and vanilla.

Pour the liquid mixture into the well of the dry mixture.

Mix until just moistened, then fold in the chocolate chips.

Distribute evenly into 12 greased muffin cups and bake for 20 minutes.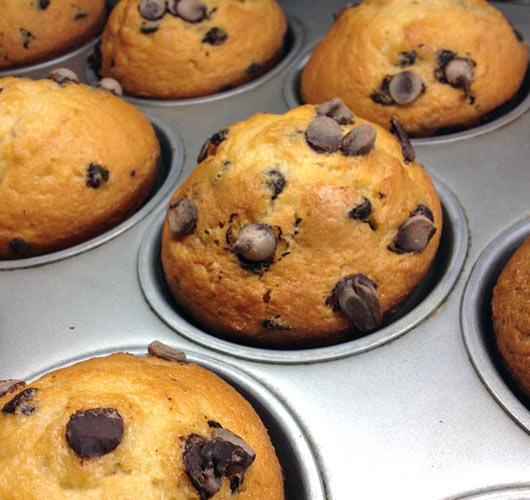 Cooking Note:
To make these muffins more decorative, let them bake for about 10 minutes and then sprinkle 5 or 6 chocolate chips over the top of each muffin. That way they'll stick to the muffin, but still (mostly) maintain their chocolate chip shape.

Two great tastes that taste great together - cinnamon and chocolate. Too make the muffins slightly healthier, replace 3/4 cup of the all-purpose flour with whole wheat flour.




Mr Breakfast would like to thank muffin for this recipe.

Recipe number 771. Submitted 1/12/2003.