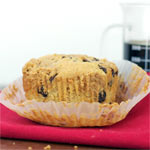 Peanut Butter Chocolate Chip Muffins
2/3 cup peanut butter
2 tablespoons margarine - melted
3/4 cup sugar
2 large eggs - lightly beaten
1 and 1/2 teaspoon vanilla
1 and 1/2 cups all-purpose flour
1 and 1/2 teaspoon baking powder
1/2 teaspoon baking soda
1/2 cup milk
1 cup (6-ounces) chocolate chips
This recipe was submitted to the site by a guy named "Baseball" over a decade ago in 2002. Wow! I forgot MrBreakfast.com was so old. Anyway, it's 13 years later and I finally photographed this beauty (July 2013).
Generally speaking, I liked this muffin a lot... at least the results. The optional Peanut Streusel Topping was a bit misleading. It's very gloppy. You can't sprinkle it on. You have to use two spoons and dot the tops of the muffins. It's a little messy. The finished muffins taste great. My only complaint is that the peanut butter in the topping stays so moist, the muffin doesn't look fully baked. My wife actually liked that and thought it made them seem super fresh. Next time I make them, I'd replace the creamy peanut butter in the topping with another Tablespoon of chopped peanuts. That said... these were really, really good.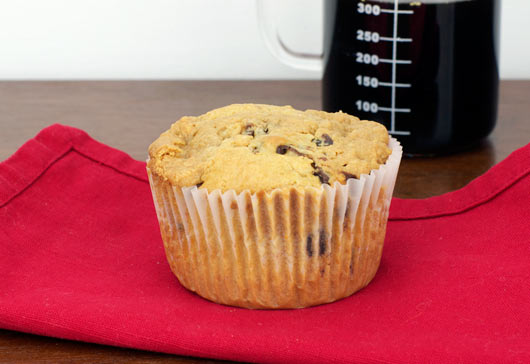 How to Make Peanut Butter Chocolate Chip Muffins
Preheat the oven to 350 degrees.
In a large bowl, combine the peanut butter and margarine until well blended. Mix in sugar, eggs, and vanilla.
In a separate bowl, mix together the flour with baking powder and baking soda. Add to peanut butter mixture along with milk and chocolate chips. Mix well. Spoon into 12 lined muffin tins.
Bake for 20 to 25 minutes or until muffins spring back when touched lightly in the center.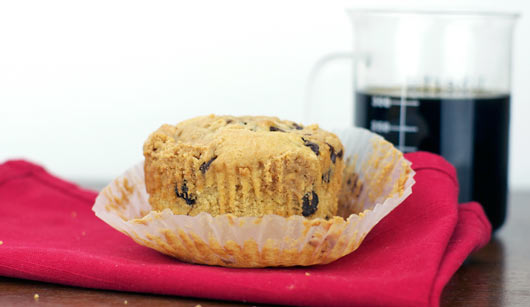 These muffins are great on their own, but they're even better if you top them with a Streusel Topping:

Peanut Streusel Topping

- 2 Tablespoons all-purpose flour
- 2 Tablespoons brown sugar
- 2 Tablespoons chilled butter - cut into small pieces
- 2 Tablespoons creamy peanut butter
- 2 Tablespoons crushed peanuts

Mix all ingredients together in bowl. Combine with clean, cool fingertips until the mixture is well combined and crumbly. Sprinkle topping evenly over muffin batter in muffin cups before baking.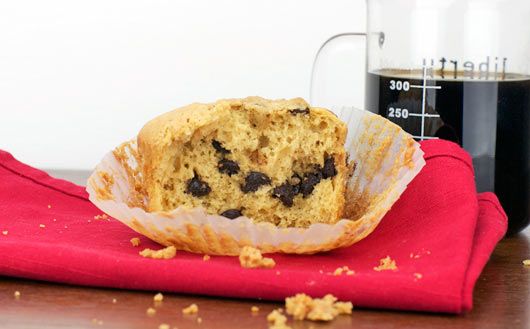 Hey you got your chocolate in my peanut butter... muffin!
Mr Breakfast would like to thank
baseball27
for this recipe.
Comments About This Recipe
What do you think of Peanut Butter Chocolate Chip Muffins?
Overall Average Rating =

(out of 5)




From The Beard
We really enjoyed these muffins... every bite. Thanks! Much obliged.

Comment submitted: 1/30/2014 (#17286)



From Spazzz
I used butter instead of margarine and I did do the optional Streusel topping. The muffins turned out great (lots of flavor). The only thing I didn't like was that making the topping was messy (stuck to my fingers), but I dolloped it on in tiny spoonfuls and it all worked out in the end.

Comment submitted: 9/6/2013 (#16408)





From Matt Kittoe (Team Breakfast Member)
Substituted 1/2 cup of the flour for oat bran, added two scoops of protein powder, reduced sugar to 1/2 cup and increased the milk to 3/4 cup. Used dark chocolate chips and natural peanut butter. Delicious!

Comment submitted: 9/14/2011 (#12905)



From Julie
OMG they are so yummy :D I adjusted the ingredients a bit and OMG :D amazing, thx for the recipe.

Comment submitted: 2/17/2011 (#12138)



From pancakelover
| | |
| --- | --- |
| Rating (out of 5): | |

Yuck yuck yuck. The only redeeming quality of this recipe is the chocolate chips and I'm sad that I wasted them in this!! It is mega bland (and I even added a bit more peanut butter) and it has a grainy texture. Possibly my peanut butter, but I've never had issues with that peanut butter before. I don't know why in the world people like these...maybe they have never actually had a truly good muffin! I'm really so sad I wasted chocolate chips on this when there are so many other muffin recipes out there that are actually phenomenal.

Comment submitted: 12/4/2010 (#11663)



From BakerBooj
| | |
| --- | --- |
| Rating (out of 5): | |

It's my fault that I had to rate so low... I substituted sugar for splenda and my muffins were very bland:( I will try again with real sugar!

Comment submitted: 11/4/2010 (#11498)



From cookinmamma101
They are not done yet but they smell and look delicious!!!! I added a lil bit of cinnamon just for some kick of flavor. They seem to be doing great!!

Comment submitted: 4/24/2010 (#10372)





From mshivji (Team Breakfast Member)
Just made. Used hnvoss's advice about whole wheat flour and cutting sugar and they were great. I'm sure better without the substitutions, but very nice overall.

Comment submitted: 4/8/2010 (#10258)



From SB
I used nut oil rather than margarine (which is, after all, hardened vegetable oil). Also buttermilk to get a really good rise. Delicious!

Comment submitted: 4/5/2010 (#10239)





From hnvoss (Team Breakfast Member)
In an effort to make breakfast goodies a bit healthier I substituted 1/2 cup ww flour for 1/2 cup white flour and cut the sugar to 1/2 cup. I also used crunchy peanut butter and milk chocolate chips. Very Good!!!

Comment submitted: 2/22/2010 (#9880)



From M.B.E.A.

I haven't made these muffins yet, but I really am looking forward in doing so, I'm sure my four little guinea pigs (Molly, Beth, Evie and Archie) can't wait to try them as well.

Comment submitted: 2/20/2010 (#9868)



From TN fan

Thanks Sophie You rock thx for the tip.

Comment submitted: 2/16/2010 (#9759)



From Family Fav
These are so good! My family loves them. This is one of my favorite recipes.

Comment submitted: 2/6/2010 (#9639)



From Sophie
Quick and easy to make with fantastic results! I used dark chocolate chips and they worked a treat. My only suggestion would be to state that it's 350 degrees Fahrenheit (or 180 degrees Celsius) for your overseas readers.

Comment submitted: 5/26/2009 (#8179)



From kublakon

Used whole wheat flour which must have been my mistake. Dry as a bone.

Comment submitted: 3/31/2009 (#7875)



From Brenna
The best muffins I've ever made! I started with the batter, and couldn't stop sticking my finger in it! I added an extra egg to make the muffins extra cake like, I really think that extra egg did something! Perfectly moist and chocolatey. I'm only 15 and I made them perfectly:]

Comment submitted: 1/27/2009 (#7467)



From Katie
Yum!

Comment submitted: 1/22/2009 (#7434)



From MandyC
Have a big glass of milk ready when you eat these!! They are really REALLY good. The peanut butter is subtle, but it is there just enough to make your lips smack while you eat them!

Comment submitted: 5/4/2008 (#5191)





From neonheart (Team Breakfast Member)
These muffins are delicious!! The peanut butter is subtle, but the subtlety works perfectly with the chocolate chips and the moistness of the muffins.

Comment submitted: 3/2/2008 (#4730)



From Nat Dee
These muffins are delicious; so moist they melted in my mouth. I think I enjoyed them more than my children! Thanks!!!

Comment submitted: 1/10/2008 (#4349)



View all 33 comments for this recipe.



---
Connect With Mr Breakfast: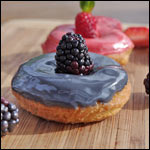 Berry Delicious Cake Donuts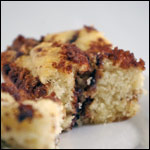 Cinnamon Flop (Coffee Cake)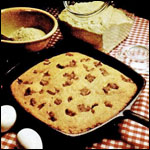 Bacon Spider Bread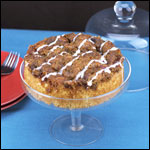 Strawberry Jam Coffee Cake

Our list of the best cereal premiums of all time.
Click here
.