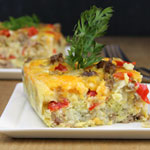 Southwestern Crockpot Breakfast
18 large eggs
1 small can green Ortega chilis
1 pound cooked breakfast sausage
2 and 1/2 cups grated Monterey Jack or Pepper Jack cheese
1 medium onion - diced
1 medium red or green bell pepper - diced
1 teaspoon butter
12 ounces thawed frozen tater tots - optional
This recipe turned out perfect, but the cooking time is a little tricky. Many people have left comments about this recipe (mostly positive) with several saying that the cooking time is closer to 6 hours. I used a 12 x 9-inch Cuisinart slow cooker and mine was nearly finished in 3 hours. I then put it on warm for 3 hours and it was awesome. For overnight application, I'd recommend cooking on warm (the setting lower than "low") and then cooking on medium when you wake up if the egg isn't fully set yet. This recipe makes A LOT OF FOOD. I served 5 people and still had enough leftovers to make 7 enormous breakfast burritos. I opted to use the optional tater tots which was a great addition. For the cheese, I used a combination of Cheddar and Pepper Jack. The extended cooking time in the slow cooker really let the flavors meld together for a breakfast that was rich and indulgent. (This recipe was submitted in 2003. It was tested and photographed in May 2015.)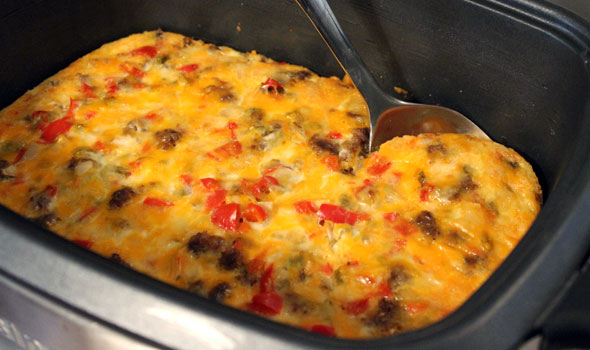 How To Make A Southwestern Crockpot Breakfast
Grease entire Crockpot with butter - just the inside. :)
Starting with sausage, layer meat, chilis, onions, peppers and cheese, repeating the layering process until all ingredients are used and ending with a layer of cheese.
Beat the eggs, then pour over mixture in the Crockpot. Cover and cook on low for 7 to 8 hours. Serve with sour cream or fresh salsa.
* If using tater tots, just place them in a single layer on top of the first layer of sausage.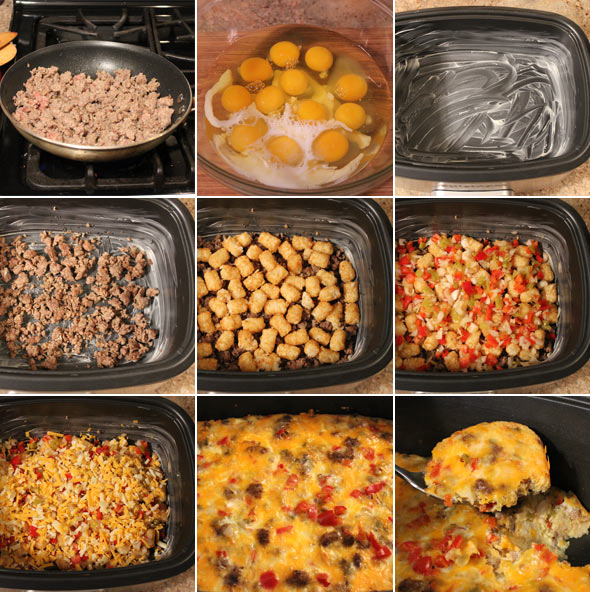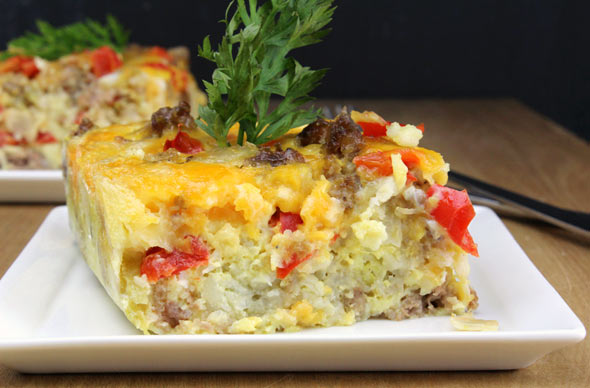 This will feed all the cowboys on the ranch. It's easy to prepare and clean of is a breeze. I'm a crackpot for Crockpots!
Mr Breakfast would like to thank
The Boss
for this recipe.
Comments About This Recipe
What do you think of Southwestern Crockpot Breakfast?
Overall Average Rating =

(out of 5)

From Jake RZ
Mine was ready in 6 hours and the edges were just a little overdone, so I'd be careful about cooking for 8 hours. Other than that, it was delicious. Oh, I also reduced the number of eggs to a dozen, the cheese to 2 cups, but left everything else the same.

Comment submitted: 3/13/2013 (#15370)



From Kamaka
A co-worker brought this in and it was pretty good. 7 or 8 hours on low would rubberize it! So, 7 or 8 hours on warm is all you need. Keep in mind, this is for those who do not have the time in the morning to make it.

Comment submitted: 11/17/2011 (#13201)



From Mary
Having a Thanksgiving breakfast at work. Cannot wait to try this out!

Comment submitted: 11/18/2010 (#11580)



From LakeGranite
Really good. Next time, I'd like to make in the oven in a casserole dish and halve the recipe for a smaller group. What would the temperature cooking time be?

Comment submitted: 8/22/2010 (#11105)



From spaceman
Yummy!! Perfect for camping. But I was wondering if you could eat the leftovers...

Comment submitted: 8/14/2010 (#11061)



From Shunnia
Awesome!!!

Comment submitted: 6/17/2010 (#10710)



From Happy Camper
Perfect for camping!! Loved it!!

Comment submitted: 6/17/2010 (#10707)



From ruffle77

This sounds like a wonderful idea for a busy couple; speaking of busy couple, I only need to make this for two people who would also love the leftovers. With the eggs and all (even if it's cooked), is it safe to put the rest of the portion in the freezer for the next couple of days?

Comment submitted: 1/19/2010 (#9496)



From Oven Lovin

Who wants to wait 7-8 hrs for breakfast. You can do the same thing, just put it in a baking dish set oven to 375, and in 25 min you have breakfast. I would never crock pot this.

Comment submitted: 10/10/2009 (#8817)



From AppleBall

7 to 8 hours of cooking will turn your breakfast into an inedible polymer. Follow the advice of the poster who recommended 3 hours on low.

Comment submitted: 9/22/2009 (#8737)



From SuperMom
I made this for my family, and I added tater tots... they loved it.

Comment submitted: 1/29/2009 (#7480)



From wow baby
Thank you. This recipe was amazing.

Comment submitted: 7/4/2008 (#5823)



From yev
I luv it... Ya I love it... yea!

Comment submitted: 1/31/2007 (#1382)



From Gretchen
I made this for a breakfast buffet and used it as breakfast burrito filling with tortillas, sour cream and salsa on the side. It was a huge hit!

Comment submitted: 12/1/2006 (#854)



From pammy

For mamacita... Did you cook 1/2 of the amount in each crockpot, or make the whole recipe 2 different times? Thanks, py

Comment submitted: 10/20/2006 (#532)





From mamacita (Team Breakfast Member)
I took this to work and it was a big hit - only change I made was to put in a large can of green chilis - NOTE the cooking time was only 3 to 3 1/2 hours on low (I used two different crock pots and they both cooked in about half the time than the recipe stated.)

Comment submitted: 10/16/2006 (#508)




---
Connect With Mr Breakfast: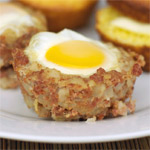 Meal In A Muffin Pan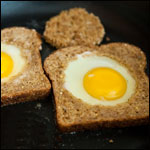 Egg In The Hole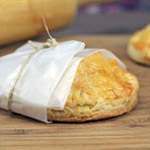 Breakfast Hand Pies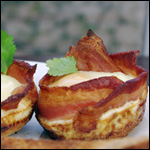 Bacon Breakfast Cups

Our list of the best cereal premiums of all time.
Click here
.