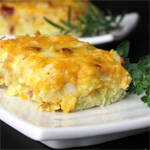 Crockpot Omelette Casserole
12 large eggs
1 32-ounce bag of frozen hash brown potatoes - partially thawed
1 pound bacon cut into small pieces - fried and drained
1/2 cup diced onions
12 ounces shredded cheddar cheese
1 cup milk
1/2 teaspoon dry mustard
salt and pepper - to taste
Recently, I've fallen in love with crockpot breakfast casseroles. I'll make one for family brunch and find that I have enough left over to use it as a filling for breakfast burritos which I freeze and eat over the next couple of weeks. My fascination started with a
Southwestern Crockpot Breakfast
that had sausage and peppers. It was great as a casserole and even better as burritos. The recipe here uses bacon instead of sausage and is quite heavy in the potato department. It was a winner. I liked the heartiness of the hash browns. I might add some chopped bell pepper the next time I make it. This recipe served three hungry people from the crockpot and the leftovers were enough for 8 large burritos. (This recipe was submitted in 2003. It was tested and photographed in June 2015.)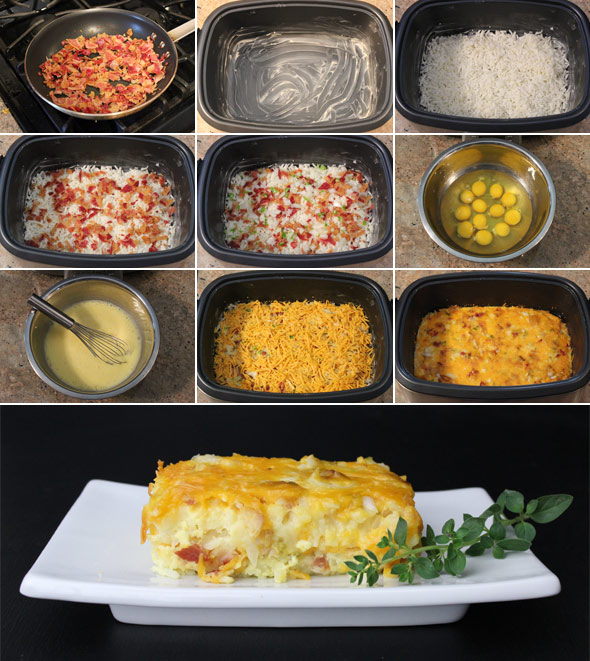 How To Make A Crockpot Omelette Casserole
As if you were making lasagne, layer your ingredients as such (bottom to top):
1. potatoes
2. bacon
3. onions
4. cheese
5. potatoes
6. bacon
7. onions
8. cheese
Now, beat the eggs, milk, mustard, salt and pepper together. Pour this over the whole mixture. Cook on low for ten to twelve hours*.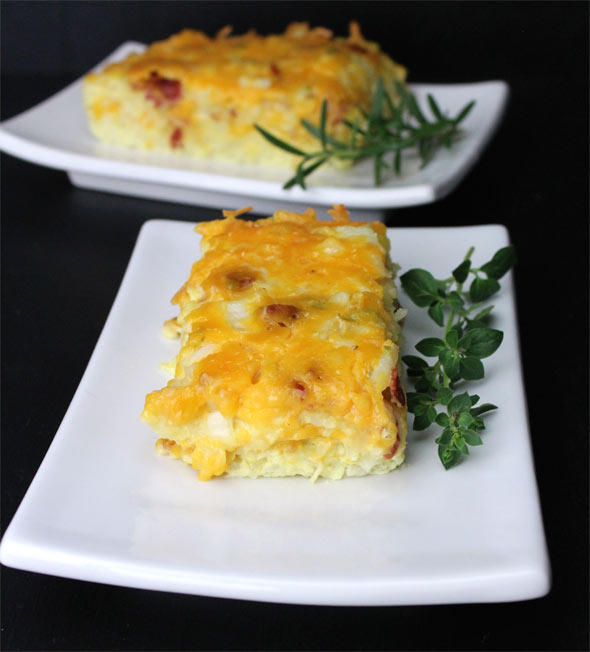 * Cooking Note From Mr Breakfast:

As others have commented below, the cooking time as directed is too long for many crockpots. I have a large 12 x 9-inch slow cooker and my cooking time was 6 hours on low. The edges were cooked more than the center, but the egg was completely set. Most people are reporting a cooking time closer to 7 hours.

Perfect for large gatherings like holiday brunch. Great make-ahead breakfast for those times when your mornings are definitely going to be busy.
Mr Breakfast would like to thank
The Boss
for this recipe.
Comments About This Recipe
What do you think of Crockpot Omelette Casserole?
Overall Average Rating =

(out of 5)

From Johnny Boy

If it doesn't all cook in the crock pot (i.e. you end up with pans and bowls and steamers and other things to clean) then it's not Crock Pot Cooking to me.

Comment submitted: 4/3/2016 (#19858)



From Busy Momma

Yes, you have to adjust the time based in if you have a newer crock pot or one like my mom's old one.

Comment submitted: 12/24/2014 (#19168)



From M.C. Keys
Glad I read the notes about the cooking time. I think you should change that to 7 to 10 hours as mine was perfect after 7.5 hours, exactly like the the other commenter. Besides having to watch it close after I woke up, everything else about the recipe is spot-on. Wonderful flavor. Very filling.

Comment submitted: 9/10/2013 (#16448)



From Cathy
I followed all the instructions, except I did 7.5 hours on LOW. It was only slightly dry, and a little crispy around the sides/bottom, but otherwise tasty. If I make this again, I will probably decrease the time by an hour.

Comment submitted: 1/25/2013 (#15104)



From Jan

Love this recipe... I found 10 hours to work well also. Maybe the low temp on some crocks is higher than others.

Comment submitted: 1/15/2012 (#13437)



From Sorrowful

Dang. I should have read all the reviews first. I planned to cook it overnight for the recommended time, but woke up and took it out after 9 hours because it was already ruined - far overdone. Lesson learned - read the reviews FIRST.

Comment submitted: 10/26/2011 (#13077)



From nety45
I thought it was a little dry so maybe I will try it out with more cheese and less time. Other than that it will be perfect for the cabin when it's my turn to cook breakfast and not heat the cabin up.

Comment submitted: 3/10/2011 (#12275)



From Joan S.
It was great to wake up with a breakfast ready for a house full of guests, and they all seemed to like it, but I thought it was a bit on the dry side. I cooked it on low for the recommended 10 hours.

Comment submitted: 9/25/2010 (#11286)



From jsanders
This was a good recipe, but I have one gripe. I listened to the other reviews and only planned to cook it for 5 hours on low. After 4 hours I realized it was no where near done, so I turned it to high. After 5 hours it was still not done in the middle so I had to scoop it out and microwave it to finish the eggs. I did double the recipe, except the potatoes. I used a large 7 qt slow cooker that normally cooks things in less time than the recipe requires, so I was confident it would be done. I was wrong. I do think 10 hours would have been too much, but It could have easily gone another 2 hours on low, if not more. With all that being said, the taste was good and everyone enjoyed it. I will make this again.

Comment submitted: 9/11/2010 (#11202)



From Witz44
I cooked it for 5 hours and it was perfect.

Comment submitted: 3/29/2010 (#10191)



From kellsarah

I need this to take 10 to 12 hours so I hope this works!

Comment submitted: 3/3/2010 (#9966)



From Crocker

So. How long do you really cook this?? One says 4 hours?? Other 9-10 help me out with this!

Comment submitted: 8/15/2009 (#8552)



From sprinkle
This recipe worked great. Thank you.

Comment submitted: 12/23/2008 (#7182)





From mc1963 (Team Breakfast Member)
We loved this recipe but the comments were right 4 hours on low is plenty!

Comment submitted: 8/9/2008 (#6097)



From Maggie
Awesome results! I followed the recipe pretty closely and just added diced green peppers. I also 1.5 X the recipe (I have a big crockpot) and cooked it on low for about 9 hours. No sticking but I did spray the inside of the crock prior.

Comment submitted: 3/9/2007 (#1775)



From s
Very good, I served this at a fundraiser! We got lots of money!! 8 hours on low burned the bottom of the casserole... I'll do 4 to 6 hours on low next time!

Comment submitted: 2/15/2007 (#1534)





From mamacita (Team Breakfast Member)
I served this recipe at a potluck brunch and it was delicious - didn't change a thing HOWEVER the cooking time in my crockpot was only 4-5 hours on low.

Comment submitted: 10/16/2006 (#509)




---
Connect With Mr Breakfast: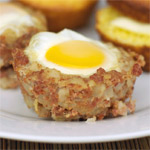 Meal In A Muffin Pan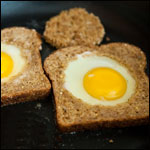 Egg In The Hole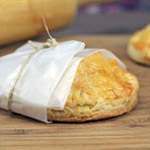 Breakfast Hand Pies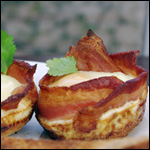 Bacon Breakfast Cups

When's the last time you had breakfast in a cup made of bacon?
Click here
.