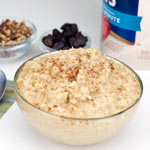 Best Ever Maple-Cinnamon Oatmeal
1/2 cup Old-Fashioned oats
1 cup of water
1/4 cup of sugar-free maple syrup
1 Tablespoon low fat butter (I use Country Crock's Calcium Fortified butter)
1 teaspoon cinnamon plus extra for dashing
Cook oatmeal in microwave until done*. Add in butter, cinnamon, and half of the maple syrup. Stir in well. Add another dash of cinnamon and the rest of the maple syrup, slightly stir. Enjoy!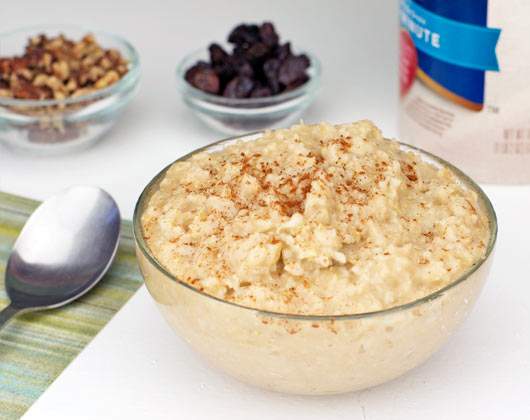 * To make oatmeal in the microwave using Old-Fashioned oats: combine oats and water in a microwave-safe bowl. Microwave for 90 seconds. Stir and microwave 60 additional seconds.

Who can resist this cinamonny maple flavor? It's great and I have it every morning!
Mr Breakfast would like to thank
saucy_siren
for this recipe.
Comments About This Recipe
What do you think of Best Ever Maple-Cinnamon Oatmeal?
Overall Average Rating =

(out of 5)

From Ashley
Really good! I hate regular oatmeal because it is so bland, but this oatmeal tastes amazing!

Comment submitted: 11/15/2016 (#20120)



From Mighty Good
I just made this. I cut the amount of butter and syrup in half and used less than a cup of water. Really good, but I added fresh strawberries to create a GREAT breakfast meal... will make it again!

Comment submitted: 4/6/2015 (#19353)



From Christina
I used lite syrup instead of sugar free, but thought that this recipe was just so-so. The oatmeal did not taste as 'maple-y' as I would have hoped. The recipe was okay to try, but I wouldn't make this oatmeal again.

Comment submitted: 11/29/2014 (#19131)



From awesomejeka
I used half the maple syrup and cinnamon, because I used a very high grade maple syrup. This tastes just like the ones you can buy. It's great!

Comment submitted: 10/27/2014 (#19083)



From Jennakendrick
Tastes amazing! I actually dislike oatmeal because it's so plain but this is full of flavor and amazing! Definitely going to make this again soon! The only thing is that I used instant oats and only half a tablespoon of butter and 1/8 of maple syrup.

Comment submitted: 3/13/2014 (#17360)



From hashberry

I'm going to cook this recipe right now and see how it tastes.

Comment submitted: 12/1/2013 (#17189)





From katfish (Team Breakfast Member)
If you use pure maple syrup, you only need 2 Tablespoons to make it sweet. I agree with others here: Great flavor combination for a healthy breakfast.

Comment submitted: 5/29/2013 (#15967)



From whiskers

1 cup of water is too much for a 1/2 cup of oatmeal. I tried that and had to drain water out of the bowl. The recipe is fantastic though!

Comment submitted: 2/2/2012 (#13515)



From Chef Funker
I agree... cinnamon and maple are great together. Good recipe.

Comment submitted: 2/2/2011 (#12048)





From morgi (Team Breakfast Member)
I used regular butter and real maple syrup (the kind that came out of a tree, not the fake "breakfast syrup" people put on their pancakes, and this is very good!

Comment submitted: 9/25/2010 (#11282)



From Kyrie
Good recipe! Is there a way to cook this recipe without a recipe??

Comment submitted: 8/18/2010 (#11089)



From Frannie
I only used 1/8 cup of syrup and it turned out great :D

Comment submitted: 6/19/2010 (#10720)



From snaggletooth
Great recipe, but what in the world is sugar free maple syrup?? That's what maple syrup is: sugar! I'm from Quebec where they make the stuff and saw that and it made me chuckle :-P The things they invent these days...

Comment submitted: 1/21/2010 (#9504)



From Chris
Very delicious, I added a couple of walnuts for a crunch. =)

Comment submitted: 1/9/2009 (#7311)



From theman
Very good recipe. I cut down on the butter a little and it was still great!

Comment submitted: 2/17/2008 (#4646)




---
Connect With Mr Breakfast: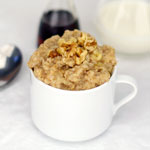 Pancake Oatmeal


Chocolate Chip Oatmeal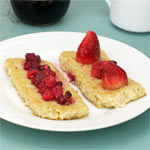 Fried Oatmeal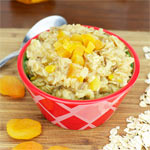 Apricot Honey Oatmeal

When's the last time you had breakfast in a cup made of bacon?
Click here
.