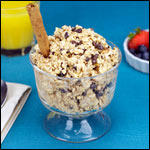 Cold Breakfast Oatmeal
3/4 cup rolled oats (non-instant and uncooked)
1 cup skim milk (may use rice or soy or almond milk)
1/2 teaspoon cinnamon
1 packet sweetener of choice (1 teaspoon)
1/4 cup dried or fresh blueberries (also try dried cherries or currants)
This recipe has been very popular on the site since it was submitted by "Cathy" way back in 2005. I finally got around to trying it (November 2012) and took a few pictures.
I personally prefer my oatmeal warm, but I can understand why this dish has gotten so many good comments. There's something very cool about putting all your ingredients in a container at night and having breakfast magically ready to eat in the morning. (Note my clever use of the word "cool".)
The recipe here is just how "Cathy" submitted it, but I would suggest two changes. Increase the sweetener to 2 or 3 teaspoons. Instead of using an exact measurement for the milk, I'd eyeball it. Add just enough so a very thin layer of milk covers the oats after everything has been mixed.
Keep those comments coming. I love reading your opinions!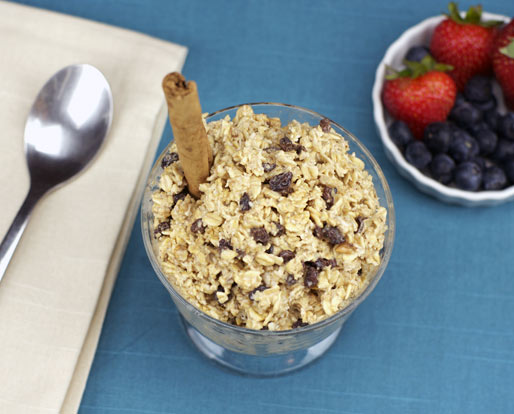 How To Make Cold Breakfast Oatmeal
The night before your breakfast, mix oats, milk, cinnamon and sweetener (if using) together in a cereal bowl. (If you are using the dried blueberries, go ahead and add these the night before - making sure they have plenty of liquid covering them.) Now cover with plastic wrap and place in the fridge overnight.
In the morning, add your fresh berries (if using) and stir gently. Enjoy.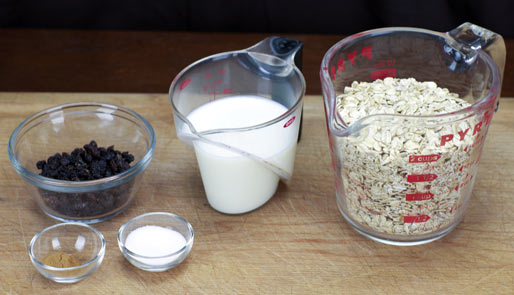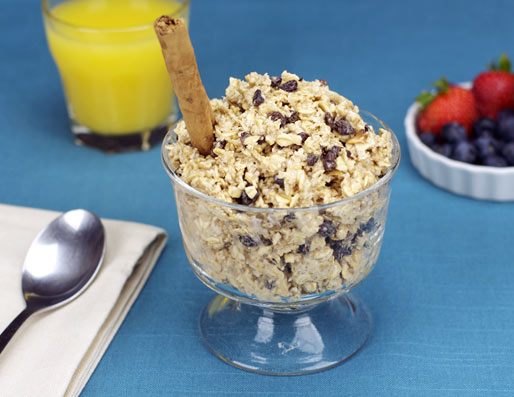 This is my very favorite oatmeal. Once I ate this, cooked oatmeal took a vacation in my home. For a twist, use steel cut oats one morning. Either way you are getting plenty of fiber and a no-sugar option as well.
Mr Breakfast would like to thank
*Cathy*
for this recipe.
Comments About This Recipe
What do you think of Cold Breakfast Oatmeal?
Overall Average Rating =
(out of 5)

From YOGURT (Team Breakfast Member)
I am on the go - mobile work, travel, and different schedules. Eating out is expensive, time consuming, and frustrating with the lack of nutrition at fast food and restaurants in general. I love oatmeal and am happy to see the positive and creative recipes for healthy and filling nutrition. Thanks!

Comment submitted: 12/23/2017 (#20476)



From K.J.
Delicious!

Comment submitted: 6/14/2013 (#16041)



From bobbi
I add nutmeg to mine also depending on the berries I use. I am a diabetic and love oatmeal. The cinnamon helps control blood sugar. But I do switch up my sweetener to agave - it's all natural. For those days I don't want to use artificial sweeteners.

Comment submitted: 5/8/2013 (#15845)



From Gillyb4

Muesli has been served cold for decades!

Comment submitted: 3/27/2013 (#15488)





From riann (Team Breakfast Member)
This is such a time saver in the morning! A great alternative to hot oatmeal during the summer. I made it with steel cut oats and it was very chewy. Tonight I will try it with rolled oats. I also added 1 teaspoon ground flaxseed.

Comment submitted: 8/8/2012 (#14279)



From Tracy
Toasted coconut makes this recipe even better. Thanks!

Comment submitted: 5/17/2012 (#13913)



From PyschicV
I mix in banans & cocoa powders, berries and maple syrup, some lemon yogurt, apples & cinamon, peaches, nuts, nut butters, chia seeds. You can really mix it up!

Comment submitted: 4/23/2012 (#13836)



From Thomas72
Thank you for this recipe! It's great! I try to eat oatmeal most days and this is a nice way to make it seem completely different.

Comment submitted: 1/22/2012 (#13455)



From robert72
Nice to see I'm not the only one. I've always preferred my oatmeal cold. I reminds me of rice pudding that way. My wife thinks I'm nuts.

Comment submitted: 10/26/2011 (#13081)



From betterlife
Awesome! I some how invented this on my own, because I always soaked rolled oats the night before. It's so much easier than cooking them, and you can always heat it up after if you want.

Comment submitted: 6/17/2011 (#12815)



From keomartin

I also like cold oats in the morning. I just have oats with sultanas soaked in the fridge over night, also I drink 2 cups of green tea and have lost 12 kg in 5 months.

Comment submitted: 4/9/2011 (#12437)





From luckycharms (Team Breakfast Member)

I do the exact same thing, long before I read this. We agree it's good!

Comment submitted: 1/22/2011 (#11972)



From Champs
Mix in mashed banana and a 1/4 cup of raisins and this is delicious.

Comment submitted: 9/8/2010 (#11183)



From riser
I have 1/4 cup cold oatmeal every morning before I run the treadmill - I add 1/2 cup of milk and some cinnamon - Oh yeah!

Comment submitted: 8/17/2010 (#11084)



From PetitDejeuner
Cold oatmeal is great. I usually will just add milk, raisins, and a dash of vanilla-stir-and eat immediately. Great way to start the day.

Comment submitted: 7/6/2010 (#10846)



From somchik
Ive never tried cold oatmeal before I saw this. The first time I tried it I thought it was ok but too thick for me. The second time I used more milk than oats and cinnamon,raisins and nutmeg, I also added a splash of vanilla and YUMMMMM! I wanted more! Thanks for teaching me about cold oatmeal!

Comment submitted: 5/4/2010 (#10437)



From Just G.
Also yummy if you omit the blueberries, and instead slice a banana on top and drizzle with honey.

Comment submitted: 3/24/2010 (#10139)



From GoGetter

What does leaving it over night do?

Comment submitted: 1/26/2010 (#9548)



From Maria
I love it. Try with diced honey dew melon or cantaloupe as they serve it in the Drake Hotel, Chicago and the Atlantis Hotel in the Bahamas. Yum!

Comment submitted: 12/21/2009 (#9267)



From caci

Always cold, with yogurt... it is great... I'll try this one... sounds delicious.

Comment submitted: 10/12/2009 (#8829)



View all 47 comments for this recipe.



---
Connect With Mr Breakfast: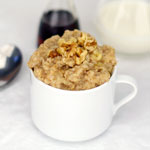 Pancake Oatmeal


Chocolate Chip Oatmeal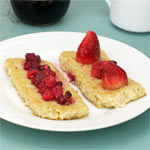 Fried Oatmeal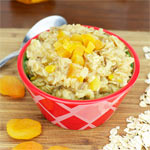 Apricot Honey Oatmeal

Our list of the best cereal premiums of all time.
Click here
.