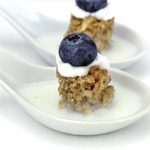 Baked Apple Oatmeal
3 cups rolled oats (quick or old-fashioned)
2 cups chopped apples
2 cups milk
1/2 cup brown sugar
1/4 cup melted butter
1/3 cup applesauce
1 large egg - beaten
1 and 1/2 teaspoons baking powder
1 teaspoon ground cinnamon
3/4 teaspoon salt
This is a fun recipe. It's more like oatmeal than it's like cake... but it's kind of like cake and that's kind of amazing. If you use a biscuit cutter (or a steady hand with a knife and spatula), you can serve it like cake. But it breaks down in the mouth like oatmeal. The flavor is great with lots of apple and cinnamon. I recommend that you serve it with a big splash of cold milk over the warm oatmeal. If desired you can make this the night before and heat it up the next morning. It's just as good that way. Bottom Line: I wouldn't change a thing. (This recipe was submitted in 2006. It was tested and photographed in December 2016.)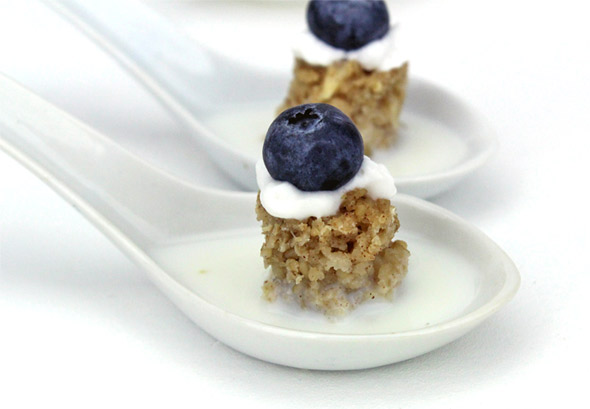 How To Make Baked Apple Oatmeal
Prepare a 2-quart baking dish with a light coating of cooking spray.
Preheat oven to 400 degrees.
In a large bowl, combine the oats, baking powder, salt and cinnamon.
In a separate bowl, mix together milk, egg, applesauce, butter, and brown sugar.
Stir the liquid ingredients into the dry and pour into prepared dish.
Bake for 20 minutes.
Stir the oatmeal, fold in the chopped apple and bake 20 more minutes until top is lightly browned.
Spoon into serving bowls and serve with milk and a little extra brown sugar.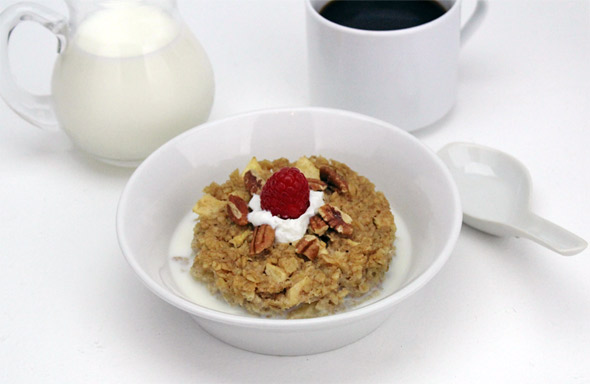 Cooking Notes From Mr Breakfast:

For my recipe test, I halved this recipe using 1 egg. I baked it at 400 degrees for 25 minutes, covering it with foil midway through.

I used a Gala apple. For me, 1 apple chopped equaled 1 cup. As suggested in some of the comments below, I folded my apples into the oatmeal at the start of cooking.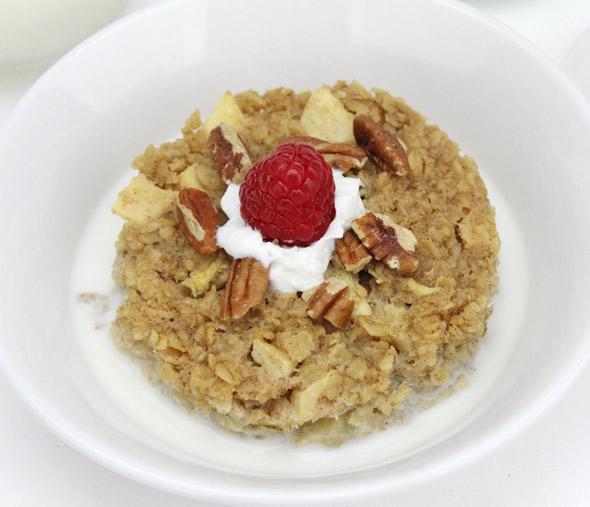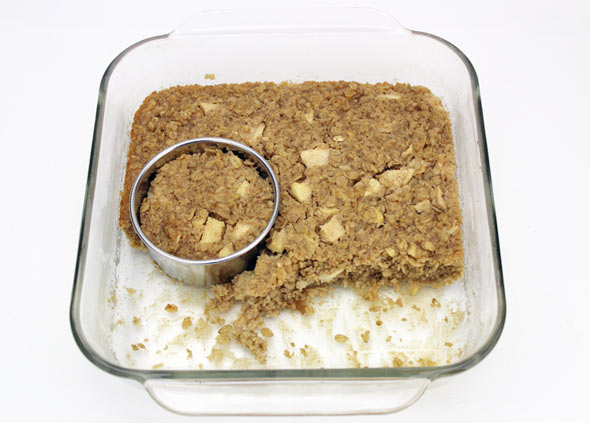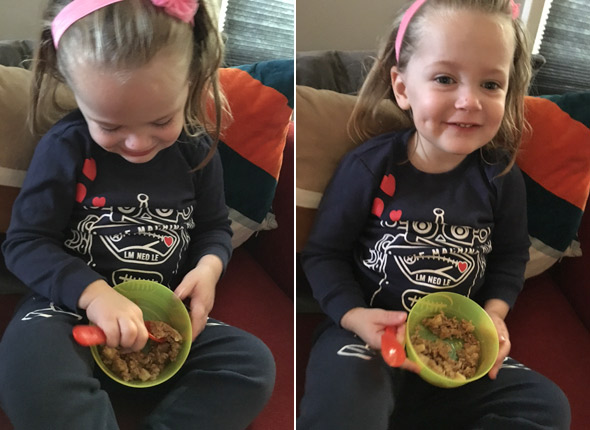 You can replace the apples with equal an equal amount of blueberries or other fruit.
Mr Breakfast would like to thank
DixieChick
for this recipe.
Comments About This Recipe
What do you think of Baked Apple Oatmeal?
Overall Average Rating =

(out of 5)

From JitteryJen
I eat oatmeal all the time, but this was a special treat! I added 1 teaspoon vanilla, and only cooked it for 20 minutes total. This was an accident - I actually misread the recipe, but I thought it was perfect! I added the apples in the beginning. The texture was perfect, and it was pleasantly (but not overwhelmingly) sweet.

Comment submitted: 11/23/2014 (#19121)



From Andrea
Awesome! I halved the recipe and did blueberries instead of Apples. Instead of butter I did olive oil and instead of an egg I did egg substitute. It was delicious!

Comment submitted: 1/7/2013 (#15061)



From shwoop
Stir in some toasted walnut pieces and this is absolutely perfect. It's also great with canned (low-syrup) peaches and comes out like a cobbler.

Comment submitted: 4/14/2012 (#13792)



From Nadioso
Delicious Valentine`s Day Breakfast! Made with no egg, a little more cinnamon and applesauce, and served with extra milk, vanilla yogurt, and some fresh blueberries. Will make again, thanks for the yummy recipe!

Comment submitted: 2/14/2012 (#13540)



From BobbyDebbie
It was kinda dry and I followed the directions. But it was alright. I added a little extra cinnamon when I added the apples in. I think that gave it a little more flavor. But all in all it was an okay recipe.

Comment submitted: 1/21/2011 (#11959)





From themadhatter106 (Team Breakfast Member)
Although this is listed in the healthy section, I wouldn't consider this a particularly healthy breakfast, simply because of the amount of butter, salt, and sugar used. I tried making it with half the amount of sugar, butter, and salt. I ended up with something that smelled like apple crisp, but tasted rather bland. There are better recipes if your looking for something healthy for breakfast.

Comment submitted: 1/21/2011 (#11956)



From Cindy
Great Recipe! Especially good if you have to take a breakfast casserole!

Comment submitted: 12/15/2010 (#11720)





From piratealice (Team Breakfast Member)
I've never liked oatmeal. I've always liked the smell of it and wished it had a better texture, but to eat it, bleuch. One day my friend told me that the instant stuff is always gross and mushy, try the old fashioned oats, they have a better texture. I trust this friend with my taste buds, so I bought a big can and looked up recipes. I tried this one first, just now today. I modified the recipe slightly since I didn't have milk. I used vanilla flavored coffee creamer instead. And because I had them, I added fresh cranberries. (put the cranberries in when it first starts baking, you'll hear them pop as it's in the oven). OMG! this is DELICIOUS!! I served it with applesauce rather than milk. So YUMMY!

Comment submitted: 12/1/2010 (#11648)



From Deb Frank
Simply amazing. Definitely a go-to meal for me from now on.

Comment submitted: 10/12/2010 (#11372)





From majormajor (Team Breakfast Member)
This was absolutely awesome! My 3 year old loved this so much she had seconds. I used cran/raspberry applesauce because that's all I had on hand. I think that added a special yummy touch to it! I too had to add a little milk when stirring in the apples and a little when serving. So, so, so good!

Comment submitted: 9/21/2010 (#11266)



From Bob
This has become a staple for warm morning yumminess in our family. One of our three children went through an "I hate oatmeal" stage, and even HE loved this (because it's yummy).

We also have substituted applesauce for eggs when we were out one morning, and it retained its yumminess.

Did I mention it was yummy?

Comment submitted: 7/10/2010 (#10863)



From Mommy G
Loved this. After the first 20 minutes of baking, I added another cup of milk. I used dehydrated apples from my food storage. YUMMY! I am not an oatmeal lover either.

Comment submitted: 1/25/2010 (#9543)



From BakerRoo
I make this all the time for my family. Everyone who has tried this oatmeal loves it.... even my oatmeal hating mom! I follow the recipe amounts except I like mine a little more moist so I bake for 15 minutes, fold in apples and 1 additional cup of milk, then bake for 15 minutes longer. When I serve it I add a little additional milk plus raisins... yummy! A little goes a long way so I always end up cutting it into squares and freezing the leftovers. It tastes just as good after being frozen. Thanks for a great recipe!

Comment submitted: 10/25/2009 (#8901)



From pahansen
This is definitely a recipe where the whole is more than the sum of its parts. I like the fact that you can get the recipe in the oven and chop the apples as it begins to cook. I make it with whole oats, and because I like my oats drier than most people, I stir it an extra time in the last 20 minutes and bake it a few minutes longer.

As an aside, when I was out of eggs, I substituted 1/4 cup of applesauce (in addition to the amount required for the recipe) and the recipe didn't suffer. So if you're out of eggs or are looking for a lower cholesterol/fat alternative, try the extra applesauce.

Our whole family loves it, and I think it has a vaguely bread pudding-y texture. We are going to try cooking it in bulk and freezing for quick, hearty breakfasts on cold mornings. My husband, who rarely gives anything a five star rating, chose this as a 5.

Comment submitted: 10/13/2009 (#8836)



From jillbo

My co-worker's husband made this for us. It is now my favorite breakfast with just a little milk on top. Leftovers heated up nice in the microwave for the next morning too.

Comment submitted: 2/2/2009 (#7510)



From vernsburns
This is my kids favorite recipe. What is nice is the leftover can be put in the freezer and is easy to warm up for them on school days.

Comment submitted: 12/23/2007 (#4236)



From Tram
This tastes good, but my husband and I thought it was too dry. I only had it in the oven for 30 minutes total, so maybe next time I would only do 1/2 the time.

Comment submitted: 11/3/2007 (#3909)



From villaski
Oooh this is sooo good!

Comment submitted: 10/30/2007 (#3880)




---
Connect With Mr Breakfast: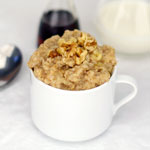 Pancake Oatmeal


Chocolate Chip Oatmeal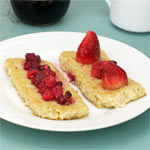 Fried Oatmeal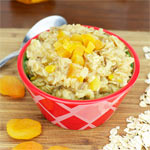 Apricot Honey Oatmeal

When's the last time you had breakfast in a cup made of bacon?
Click here
.