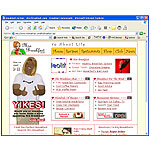 Mrs Breakfast
MrsBreakfast.com was "dedicated to providing all the information women could ever need about breakfast." It was basically MrBreakfast.com with a more feminine look.
2011 Update:
As much as we love Mrs. Breakfast, we've decided to send her on a long vacation. We'll be hanging on to MrsBreakfast.com domain name, but until we have a plan and the resources to make her site super useful, and different and distinct from MrBreakfast.com, you won't be seeing this wonderful lady on the internet.
The editorial content above may not be reproduced without the written permission of Mr Breakfast.com. Please contact us for reprint requests.