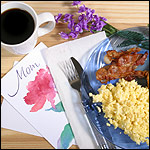 Mothers Day
A holiday occurring annually in the U.S. on the second Sunday in May. Mother's Day dates back to the ancient Romans. It was made a national holiday in the U.S. on May 8, 1914.
The resolution signed by President Woodrow Wilson read as follows:
"Now, Therefore, I, Woodrow Wilson, President of the United States of America, by virtue of the authority vested in me by the said Joint Resolution, do hereby direct the government officials to display the United States flag on all government buildings and do invite the people of the United States to display the flag at their homes or other suitable places on the second Sunday in May as a public expression of our love and reverence for the mothers of our country."
Article:
A Mother's Day Tribute
- Includes Recipes
The editorial content above may not be reproduced without the written permission of Mr Breakfast.com. Please contact us for reprint requests.