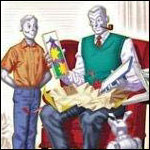 Fathers Day
In 1966, President Lyndon Johnson signed a presidential proclamation declaring the 3rd Sunday of June as Father's Day. President Richard Nixon signed it into law as a national holiday in 1972.
To quote President George W. Bush from his 2003 Father's Day Proclamation:
"Fatherhood is one of life's most challenging yet fulfilling endeavors. On Father's Day, we honor America's fathers and express our appreciation for all they do to help build a strong foundation for our children and our Nation. We also reaffirm our commitment to supporting fathers and encouraging responsible fatherhood in our society.
Fathers have indispensable roles to play in the lives of their children: provider, protector, nurturer, teacher, and friend. Every caring father unconditionally loves his sons and daughters and strives for the best for his children in the future. In seeking to give their children the opportunity to succeed, fathers offer needed strength, guidance, and discipline.
Fathers teach their children many basic things in life: how to read a book, throw a ball, tie a necktie, ride a bike, or drive a car. More importantly, they also help instill time-honored values in their children, such as hard work, respect, honesty, and good citizenship. Through their words, actions, and sacrifices, fathers play an important role in shaping the characters of their sons and daughters."
Articles:
A Fathers' Day Tribute
- Includes Recipes
The editorial content above may not be reproduced without the written permission of Mr Breakfast.com. Please contact us for reprint requests.