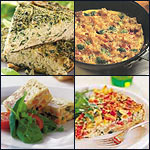 Frittata
Pronounced "freet-TAH-tah".
An open-faced (unfolded) omelet that originated in Italy - usually round in shape with other ingredients mixed into the eggs. Frittatas can be baked or fried, or half-fried and then baked.
A lesser-used method to make a frittata is to cook the egg mixture in a pan until the bottom is set and then invert the frittata into another pan to cook the top. Most frattatas are served warm, but there are some - usually in appetizer-sized portions - that are served at room temperature.
Articles that reference "Frittata":
Recipes with "Frittata" in the title:
Recipes with "Frittata" in the ingredients:
The editorial content above may not be reproduced without the written permission of Mr Breakfast.com. Please contact us for reprint requests.