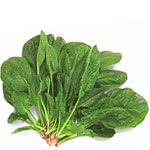 Florentine
Relating to or characteristic of Florence, a city in the center of central Italy's Tuscany region.
For our purposes, Florentine refers to foods that are cooked in the style of Florence... specifically egg, meat and fish dishes that contain spinach and, most often, a creamy Mornay-style sauce.
Certainly not all dishes in Florence, Italy contain spinach and cream sauce. The connection between the key ingredients and the city is not entirely clear. The closest explanation comes from an unverified story about the Italian wife of France's Henry II. Catherine de Medici is credited with introducing a number of Italian foods to France including Italian ices and sherbet. Some "I-didn't-do-my-research" food historians even credit her for bringing pasta to France. As the simple tale goes, Catherine introduced spinach to the Court of France around the year 1550. To honor her Italian heritage, she decided to call any dish containing spinach 'Florentine'.
To further obscure the origins of the word, Florentine referred to a kind of meat pie until the late 18th century. And once more, a steak cooked ala Florentine is cooked with olive oil and garlic... with no spinach what so ever. Leave it to the crazy Australians to make matters even worse. Thanks to them, a cookie with candied fruit (and sometimes nuts) is also called a Florentine.
Our modern definition of Florentine developed in France in the early or mid- 19th century when Spinach began turning up in fancier dishes that mostly likely already had a cream sauce component.
Columns that reference "Florentine":
Recipes with "Florentine" in the title:
The editorial content above may not be reproduced without the written permission of Mr Breakfast.com. Please contact us for reprint requests.