A Father's Day Tribute
By Mr Breakfast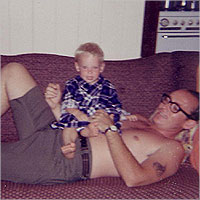 Little Mr Breakfast sits
on his dad's belly
Fathers are getting a real screw-job.
According to Hallmark Consumer Research, Americans sent 49 million more Mother's Day cards than Father's Day Cards in 2004. As a top card-giving holiday, Father's Day traditionally ranks 4th, behind Mother's Day in 3rd place.
According to an AT&T press release, calling volume for Father's Day falls beneath both Mother's Day and Christmas. And where does Father's Day rank #1?
It's the heaviest day for collect calling
.
In his article "Eating Out For the Holidays", Robert Ebbin reveals that nearly 40% of respondents in a Restaurants USA study reported eating out on Mother's Day. Less than 25% of respondents reported doing the same on Father's Day.
No disrespect to the mothers of the world, but it's time to even the slate. When
the third Sunday of June
rolls around this year, it's time to give dad the royal treatment. He should get a phone call and a card, for sure. But most important of all, it's time for...

---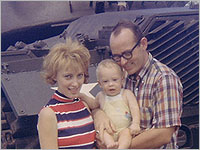 Family Breakfast 1968
5 Great Breakfasts You Can Make
For Your Dad (Or Husband)
(Remember kids: always have an adult help you when using the stuff in the kitchen.)
Check out over 2,499 other recipes
to find
the perfect breakfast for your dad.
How about serving your pops
breakfast in bed
?
Take a look at
Mr Breakfast's Guide To Breakfast In Bed
.
---
Find A Great Restaurant To Take Dad Out For Breakfast
Find your town in Mr Breakfast's giant list of breakfast restaurants. It might be a good idea to call the restaurant ahead of time. Because, this year we're gonna make Father's day the busiest day of the year to eat out! Watch out Mother's Day!
---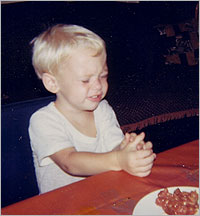 Mr Breakfast - Age 3
A Poem For Father's Day
By Mr Breakfast
My old man won't pass the syrup
He pretends it isn't there
"Pop", I say, "just pass the syrup"
All he does is smile and stare
He passed the pancakes on their plate
He passed a sausage link
But my old man won't pass the syrup
All he does is smile and wink
"This?" he asks with juice in hand
Syrup - he knows it's not
"That?" he points to his own nose
He knows that isn't what I want
He helped me pass my driver's test
He passed to me his genes
He passes me a dollar bill
Each week I keep my bedroom clean
He let it pass the time I swore!
He passes me advice!
But darned if he won't pass the syrup!
I won't ask, Pop, more than twice
I start to eat my pancakes plain (grumble)...
Hark! What should appear?
All this time the maple syrup
Was right behind my ear
Very funny, dear old dad
Just keep on laughing, guy
We'll see who laughs on Father's day
We'll see who's laughing at your tie... from a garage sale
Ahhh... but in the end, you bought the syrup
And the mix than made the (pan) (hot) cakes
There are families that don't even have griddles
I guess that I should tell you thanks
So thank you dad for breakfast!
Now let's dig in!
Could you pass the bacon? (pause)
Here we go again!
---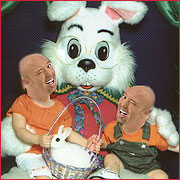 Here's
Young Mr Breakfast
a few years later. We see the beginnings of his trademark appearance.
That unsavory character to his left is his twin brother Mr Does-Not-Like-Breakfast. They were the best of friends until Mr Breakfast's brother turned against the meal that made his brother famous.
Come back to MrBreakfast.com in the coming months to learn more about this amazing story.
This article was written by Mr Breakfast (aka Eddy Chavey).
The editorial content above may not be reproduced without the written permission of Mr Breakfast.com. Please contact us for reprint requests.
Connect With Mr Breakfast: