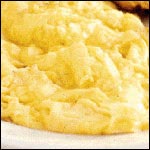 Perfect Scrambled Eggs
6 large eggs
6 teaspoons of low-fat milk (1 teaspoon for each egg)
3 dashes of salt (1 dash for every two eggs)
1 Tablespoon butter for frying
Heat a large non-stick frying pan to a setting just above medium. A 12-inch pan works well for 6 eggs.
Do not add butter yet. We just want to get the pan ready.
In large metal or glass mixing bowl, whisk the eggs with the milk and salt. Beat vigorously for 2 minutes.
Alternatively, you can place the eggs, milk and salt in a blender and blend for 20 to 25 seconds. Allow the mixture to set for a couple minutes to let the foam settle.
Melt the butter in the frying pan. As the very last of the butter is liquefying, add the egg mixture.
Do not stir immediately. Wait until the first hint of setting begins. Start the Martha Stewart scrambling technique ("Using a spatula or a flat wooden spoon, push eggs toward center while tilting skillet to distribute runny parts.")
Continue this motion as the eggs continue to set. Break apart large pieces as they form with your spoon or spatula. You will come to a point where the push-to-center technique is no longer cooking runny parts of the egg. Flip over all the eggs. Allow the eggs to cook 15 to 25 seconds longer.
Transfer eggs to serving plates. Add salt and pepper to taste.
A note about milk and water: Soy milk works effectively in the recipe. Whole milk lends an overly milky taste to the eggs. No-fat milk and water can both be used in place of the low-fat milk but the creamy texture of the finished product is reduced.
For an in-depth study on this recipe, visit
this article
.

We tried several different recipes and cooking methods to determine the best way to make basic scrambled eggs.
Mr Breakfast would like to thank
Mr Breakfast
for this recipe.
Comments About This Recipe
What do you think of Perfect Scrambled Eggs?
Overall Average Rating =

(out of 5)




From Bwekfest luver
Tastes better then any eggs I ever had. LUV IT!

Comment submitted: 9/2/2017 (#20394)



From Microwave It

I like to cook them in the microwave. My microwave has a scrambled egg setting which unbelievably works to perfection.

Comment submitted: 6/10/2015 (#19444)





From starr (Team Breakfast Member)
Perfect again (especially with a 1/3 cup cheese sprinkled on at the end). I've made this over 10 times. Thought it was time I gave my feedback and that feedback is... AWESOME! Thanks.

Comment submitted: 9/30/2013 (#16679)



From RooRoo
They should print this recipe on the inside of egg cartons. It worked that good!

Comment submitted: 6/5/2013 (#16003)



From vinnie
Topped them off with shredded Pepper Jack cheese and had it with wheat toast. Awesome-o!

Comment submitted: 11/29/2012 (#14918)



From The Man
Believe it or not, a milkshake machine works even better than a blender (if you have one). It makes them fluffy as a cloud.

Comment submitted: 5/26/2012 (#13943)



From Kiara T.
I made them for my whole family for Sunday breakfast and it came out perfect. Thanks!

Comment submitted: 4/29/2012 (#13852)



From kati
They were really tasty. Thanks.

Comment submitted: 2/29/2012 (#13592)



From Jeany
This is my first time ever making food for myself. The instructions were easy and it tasted amazing:) Thank you!

Comment submitted: 1/5/2012 (#13394)



From Bianca

Try using orange juice instead of milk! Yum, it gives it a lovely flavor.

Comment submitted: 10/1/2011 (#12962)





From isabelbergonio (Team Breakfast Member)

I will try to cook it on fathers day!

Comment submitted: 6/18/2011 (#12821)



From Callista_Rhian
Easy to make and really good! I added a teaspoon of chicken stock for every two eggs and some chopped ham, and it was delicious - light, moist, and fluffy. Thanks for a great recipe!

Comment submitted: 5/22/2011 (#12715)



From daplug
Fluffy and light just like I love them. Good recipe / article. Thanks.

Comment submitted: 3/23/2011 (#12340)



From McFort
Finally! I don't even remember how I messed them up for years. Didn't wisk enough maybe. This is a good recipe to keep around.

Comment submitted: 2/9/2011 (#12086)



From wakeup2eggs
The quintessential perfect basic scramble, note BASIC. Gotta laugh at those who say cheese is better or whole milk is too milky. Reading words like low-fat or not a specialty scramble is hard! Oh, and the cream of tartar suggestion? Excellent if you're not in a milk mood.

Comment submitted: 1/18/2011 (#11940)



From PeteUK

If this were listed as a cheats method I may agree it is good, but certainly not perfect. The bain Marie (water bath) makes much better scrambled eggs, though it does take more effort.

Comment submitted: 11/27/2010 (#11623)



From Gerald D.

Sorry but the best way is to make then in a pan (like you'd use to heat beans etc) not a frying pan. Beat eggs in a bowl, heat butter in the pan, wait until butter is sizzling but not brown, pour in eggs. Stir continually until eggs 30-40% cooked. Take off heat. Sir in milk or cream. Continue to stir until absorbed & eggs are as you like them. Beautiful! - Gerald Duniec

Comment submitted: 11/12/2010 (#11548)



From Dhani

I'm sharing this recipe with my class and showing them the pictures of the eggs that I made. My family thought the scrambled eggs were really good. So thanks. - Dhani (Age 8)

Comment submitted: 11/6/2010 (#11514)





From drcurt (Team Breakfast Member)
First time I ever attempted scrambled eggs. My 7 year old daughter says she doesn't like scrambled eggs -- yet they disappeared from her plate. Thanks!

Comment submitted: 11/6/2010 (#11509)





From Snarl (Team Breakfast Member)

Try to take it up a notch by adding a little chicken soup bouillon powder to the recipe!

Comment submitted: 8/14/2010 (#11060)



View all 67 comments for this recipe.



---
Connect With Mr Breakfast: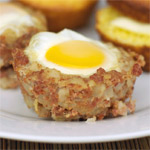 Meal In A Muffin Pan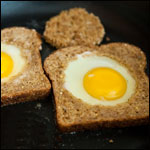 Egg In The Hole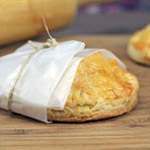 Breakfast Hand Pies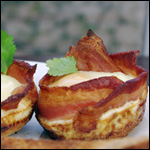 Bacon Breakfast Cups