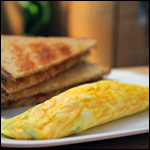 Omelettes In A Bag
2 large eggs
1 Tablespoon of grated cheese
1 Tablespoon or so of any other ingredient you like in your omelette (like onion or cooked bacon) - optional
1 small Ziploc freezer bag
Crack eggs right into the small Ziploc bag. Add the cheese and any optional ingredients you like. Seal the bag, squish the ingredients to mix. "Burp" the air out.
Bring a medium-sized pan of water to a heavy boil.
Drop Ziploc baggie into the boiling water. Boil for 5 minutes (please see note below).
Carefully, remove baggie from the water. Open the bag and roll the omelette onto a plate. YUM!
This was used to feed a group of twenty-five. Everyone had a hot breakfast!

WARNING From Mr Breakfast:
As of August 2010, the Ziploc company does NOT recommend using their bags to boil food. Ziploc brand bags are made from polyethylene plastic with a softening point of approximately 195 degrees Fahrenheit. When exposed to boiling water, the plastic could begin to melt.

NOTES From Mr Breakfast:
In my personal experience with this recipe, I found it best to boil the omelet for 6 minutes, reduce the heat to a simmer, flip the baggie in the water and simmer an additional 4 minutes. After 5 minutes, I found the inside of the omelet to be runny. I used a quality Ziploc freezer bag and had no problem with melting.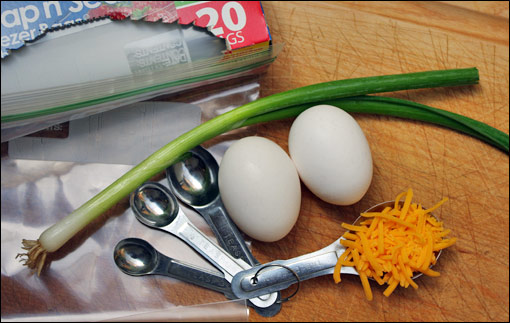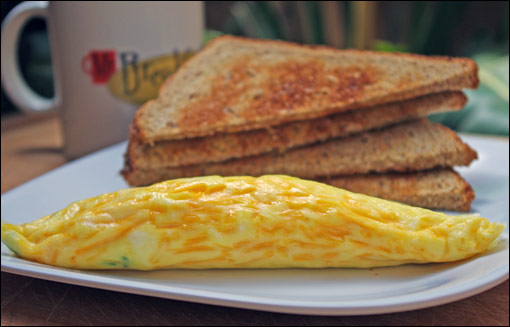 This recipe was submitted by and tested in the kitchen of Charlie and Betsy McHugh. When the omelet is done, it slides right out of the bag. No fuss. No muss. Please read warning before considering this recipe.
Mr Breakfast would like to thank
McHugh
for this recipe.
Comments About This Recipe
What do you think of Omelettes In A Bag?
Overall Average Rating =

(out of 5)




From Ya-Man
I LOVE IT! Great Omelette!

Comment submitted: 2/18/2017 (#20200)



From Chef959
There are special plastic bags designed for high temperatures, as well... oven bags!

Comment submitted: 5/16/2016 (#19930)



From Damara
Just tried it. It's great!

Comment submitted: 4/15/2016 (#19873)



From R. Doogie
I used a Zip Lock freezer bag and made a 3 egg omelet with ham, green onion and a shredded 4-cheese blend. Took about 10 minutes of boiling. This is great. Thanks!

Comment submitted: 1/15/2016 (#19743)



From M. Neil
Wow! It actually works good!

Comment submitted: 8/31/2015 (#19530)



From Relax

Relax folks. It's not hot enough to release chemicals you Panicky Petes!

Comment submitted: 1/11/2015 (#19205)



From D.D. Chipz

That was fun!

Comment submitted: 11/26/2014 (#19127)



From Not Cool

Don't boil the plastic bags people! It is not safe! Look it up!

Comment submitted: 5/1/2014 (#18853)





From Heather Muise (Team Breakfast Member)
Just finished trying this. I used peppers, onions, cheese, steamed some frozen broccoli and chopped it up. Also added some left over chicken roasted in oven. Delicious. Remember... make sure there is no excess water from the steamed veggies.

Comment submitted: 1/15/2014 (#17252)





From invelvetshoes (Team Breakfast Member)
Just as good as an omelet in the pan. Probably took longer than a regular omelet - what with waiting for the water to heat up, but it was fun to try once.

Comment submitted: 1/11/2014 (#17244)



From Army Chef

The military has been using this method of cooking eggs for quite some time with dehydrated eggs. Add water, seal and boil.

Comment submitted: 8/24/2013 (#16283)



From Bailey
Wow! This recipe really works!

Comment submitted: 4/24/2013 (#15754)



From Kahn2
Made one with Cheddar cheese and pre-cooked bacon from the store. Just like a real omelet, but looked more space-age.

Comment submitted: 2/3/2013 (#15131)



From Andersonz
Fun! We did it with the kids and used special plastic bags so there wasn't any concerns. They turned out very cool looking (a lot like your picture) and delicious!

Comment submitted: 1/5/2013 (#15058)



From amesstoday
I have read this technique in the past. Tonight, I am going to try it. It is not the lazy way; it is the smarter way. Heck, I even use a washing machine instead of pounding my clothes on rocks. Heck, what is wrong with some of you people.

Comment submitted: 12/29/2012 (#15012)



From Ms A Oakley
I like this. It's not about making less clean up. It was great for a family reunion where you didn't have to wait behind 6 people to get you breakfast. And probably if you made it every day it wouldn't be so good. But for a once in a while occasion where you have to feed a lot of people it's great. The taste is the same as cooking in a skillet. And yes, wait until you put it on your plate to add the cheese as it does stick.

Comment submitted: 12/29/2012 (#15010)



From Styx
Fun! It works so well. They should sell special bags specifically for this. If more people knew about this, more people would do it. Love it!

Comment submitted: 12/15/2012 (#14961)





From HubertSprinkler (Team Breakfast Member)
I just used this recipe to feed 12 members of the Alter Guild at church. No two were the same, every one was served at once, and I dirtied a minimum amount of pots and pans. Wonderful Brownie points were accumulated. - Ray

Comment submitted: 11/29/2012 (#14914)



From Paula
Lylla B - I hope you don't use teflon pans as they have been linked to Alzheimer's, and don't use the cups made in China as they are lead base. Oh! What about metal spatulas they can rust and cause lock jaw, and so on. Thanks to the McHugh's for sharing the recipe.

Comment submitted: 11/25/2012 (#14905)



From Lylla B

It is shocking that in this day and age people still don't know that plastic bags leak chemicals into the food specially when heated! I am appalled this was even published. It is like giving a recipe that uses cigarettes.

Comment submitted: 10/19/2012 (#14679)



View all 149 comments for this recipe.



---
Connect With Mr Breakfast: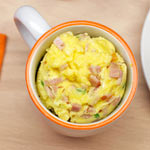 Microwave Farmers Omelet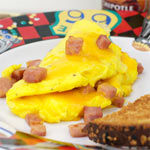 Ham & Cheese Omelette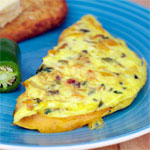 Jalapeno Omelet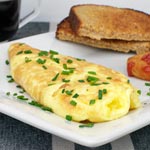 40 Second Omelet

Just because it looks fancy and tastes great doesn't mean it's hard.
Click here
.