Omelettes In A Bag

(1 serving)

2 large eggs
1 Tablespoon of grated cheese
1 Tablespoon or so of any other ingredient you like in your omelette (like onion or cooked bacon) - optional
1 small Ziploc freezer bag
Crack eggs right into the small Ziploc bag. Add the cheese and any optional ingredients you like. Seal the bag, squish the ingredients to mix. "Burp" the air out.

Bring a medium-sized pan of water to a heavy boil.

Drop Ziploc baggie into the boiling water. Boil for 5 minutes (please see note below).

Carefully, remove baggie from the water. Open the bag and roll the omelette onto a plate. YUM!

This was used to feed a group of twenty-five. Everyone had a hot breakfast!




WARNING From Mr Breakfast:
As of August 2010, the Ziploc company does NOT recommend using their bags to boil food. Ziploc brand bags are made from polyethylene plastic with a softening point of approximately 195 degrees Fahrenheit. When exposed to boiling water, the plastic could begin to melt.

NOTES From Mr Breakfast:
In my personal experience with this recipe, I found it best to boil the omelet for 6 minutes, reduce the heat to a simmer, flip the baggie in the water and simmer an additional 4 minutes. After 5 minutes, I found the inside of the omelet to be runny. I used a quality Ziploc freezer bag and had no problem with melting.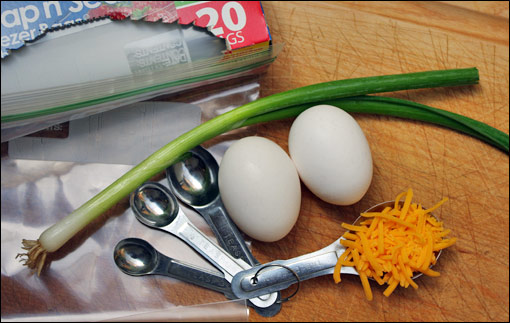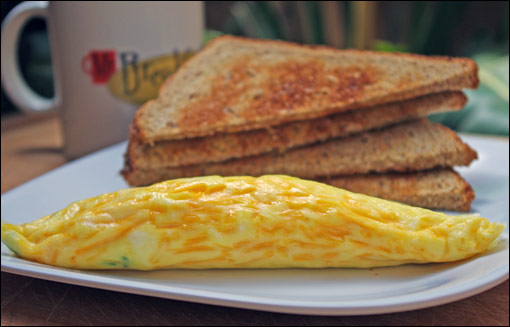 This recipe was submitted by and tested in the kitchen of Charlie and Betsy McHugh. When the omelet is done, it slides right out of the bag. No fuss. No muss. Please read warning before considering this recipe.




Mr Breakfast would like to thank McHugh for this recipe.

Recipe number 1076. Submitted 9/27/2003.