Special Announcement >

On July 25th, 2004, Mr Breakfast began celebrating its
1,111th breakfast recipe submission
. The
recipe for Lingonberry Pancakes
was submitted by a breakfast lover with the handle of Pancakegrrrl. To commemorate the occasion, Mr Breakfast proudly donated 1,111
bananas (one of nature's most perfect foods)
to
Food On Foot
, a nonprofit organization dedicated to providing the poor and homeless of Hollywood, California with nutritious meals and clothing.
(Download Official Press Release In Word Format)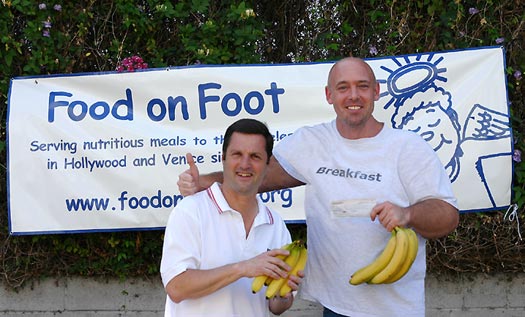 Mr Breakfast presents a check for 1,111 bananas to Food On Foot founder Jay Goldinger.
And the number of recipes continues to grow! See
all 2883 Recipes
including...





Hi breakfast lovers! I know that a lot of you are excited about the 1,111 recipe thing and you're thinking about sending me a congratulatory gift or cash. Instead, I'd like to suggest you send a tax-deductible donation in the name of breakfast to you one the food-related charities in the
Breakfast Of Love Miracle Network
. That means you can give to the needy and also screw the man.
Hungry children suck. The concept, I mean. Regardless if they're in Bangladesh or Boston, it's not a pretty sight. They stumble around listless. They're confused. And they have trouble talking to chicks.
So do them a favor. Just think how many pop-tarts you can buy with twenty-five dollars. Plus you get good karma. Now that's
a recipe worth celebrating
...
a recipe for success
!

July 4, 2002
- The first recipe appears on MrBreakfast.com...
Michigan Baked Oatmeal
January 1, 2003
- Number of recipes rise to 400 thanks to The Mr Breakfast Silly Putty Promotion.
May 9, 2003
- Site selected as Yahoo's Pick Of The Day. Site traffic and recipe submissions increase dramatically.
September 1, 2003
- A summer of increased media attention results in peak traffic and submission numbers.
March 1, 2004
- MrBreakfast.com begins to appear at the top of Google and Yahoo's search rankings. Number of recipes pass the the 1,000 mark.
July 25, 2004
- 1,111 Breakfast Recipes!
Connect With Mr Breakfast:

When's the last time you had breakfast in a cup made of bacon?
Click here
.