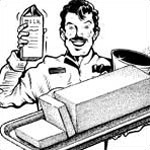 Homemade Buttermilk
1 cup whole milk
either 1 and 3/4 Tablespoons cream of tartar or 1 Tablespoon white vinegar or 1 Tablespoon lemon juice
Add acidic ingredient (tartar, vinegar or lemon juice) to the milk and stir. Let stand at room temperature for 15 minutes. The milk should start to curdle. Stir well before using.
A combination of plain yogurt (3/4 cup) and whole milk (1/4) cup can also be used to replace a cup of buttermilk in most recipes.

You don't have buttermilk, but you're desperate for homemade buttermilk pancakes or biscuits. What are you gonna do? Here's four easy solutions.
Mr Breakfast would like to thank
Mr Breakfast
for this recipe.
Comments About This Recipe
What do you think of Homemade Buttermilk?
Overall Average Rating =

(out of 5)




From T. Cubby
Worked good enough for me.

Comment submitted: 10/1/2018 (#20637)



From sony
Excellent info. Thanks so much.

Comment submitted: 1/2/2018 (#20483)



From Cream

I used to make my own buttermilk with raw cow milk. We would let the cream come to the top of a wide mouth glass jar, scoop it out and I had a glass mixer with a paddle blade. Put it in that until the butter formed, took out the butter and used the left over liquid as buttermilk. Now I just buy it like everyone else but it is not as good.

Comment submitted: 7/11/2016 (#19987)



From folahomekitchen
Yes the recipes is awesome. I combined, vinegar, cream of tartar and bi carbonate of soda in my red velvet cake and it was awesome, so nice, so good, so moist. Thank you Mr Breakfast.

Comment submitted: 7/26/2014 (#18940)



From Success!
Thanks. It tasted like the bottle from the market. I used cream of tarter.

Comment submitted: 10/13/2013 (#16816)



From C. Levine
Worked good. I used the vinegar method.

Comment submitted: 8/1/2013 (#16226)



From bunny123
Did it with lemon juice. Made great pancakes. Good to know because whenever I buy buttermilk, I tend to use it for one recipe, forget about it and then it goes bad. Good to have an alternative.

Comment submitted: 7/16/2013 (#16168)



From Mini
Never knew that buttermilk was so simple.

Comment submitted: 4/10/2013 (#15615)



From Works Good
I used the vinegar and milk since I didn't have buttermilk to make cornbread. It turned out so good that my husband swallowed his tongue twice while eating the cornbread, pinto beans, and collard greens.

Comment submitted: 3/2/2013 (#15290)



From LaVerne
You saved the day! I wanted to make my mom's buttermilk pancake recipe and didn't realize how old the buttermilk was in the fridge. Found this - used a lemon from the neighbor's tree. Tasted just like if I used store-bought buttermilk.

Comment submitted: 1/23/2013 (#15095)



From Jas
Excellent recipe. I've used this recipe 4 times now to make buttermilk for Ranch Dressing. I've found the cream of tartar method is the best out of all the mentioned options. Highly recommended (using cream of tartar).

Comment submitted: 1/17/2013 (#15084)



From Jas

Trying it now! My Cream of Tartar was quite old, and so just to be careful I added a few squeezes of lime juice (don't have any lemons). I hope it works! I'll be using it to make buttermilk ranch dressing here in a few minutes, so we'll see. Thank you for the recipe! My ranch dressing just wont do without buttermilk, so you're a life saver :)

Comment submitted: 12/9/2012 (#14951)





From Suzan (Team Breakfast Member)
This made better tasting biscuits and they had better texture too... thank you.

Comment submitted: 10/10/2012 (#14576)



From misdee215
Thank you! Loved your story. I too have shamefully refrained from questioning the mystery of buttermilk. For years, I've avoided recipes with buttermilk. It did not seem worth the trouble to go out for a quart of this odd ingredient if I only needed 1/2 a cup.

Comment submitted: 4/29/2012 (#13855)





From Houdak (Team Breakfast Member)
I am going to do this because we don't have buttermilk here. Probably going to try the method from Eric in the comments here. Thanks.

Comment submitted: 1/8/2012 (#13404)



From Kasbian
I used the method of replacing buttermilk with yogurt and milk and it made very good pancakes.

Comment submitted: 11/27/2011 (#13240)



From dusty
Thanks for this. Didn't realize the pancake recipe I was gonna use for brunch needed buttermilk. This really saved my butt and worked great.

Comment submitted: 10/29/2011 (#13095)



From Boing
Finally I know what buttermilk is! We don't have it here.

Comment submitted: 10/20/2011 (#13054)



From foodstix
It worked really well in my pancakes. Thanks!

Comment submitted: 4/9/2011 (#12433)



From Eric Altman
There is another easy method that doesn't involve adding anything to the dairy.

Just put very cold heavy cream into a non-heating processing or mixing device like a food processor, magic bullet, electric mixer with a whisk attachment, hand-held electric mixer/blender, or similar. For the most part, you should not use a blender, as the metal at the bottom tends to heat up too much and can affect the final product.

Anyways, put the very cold heavy cream (the fresher the better. I've found that local organic raw cream is amazing for this) into the chosen device and let it fly for a good 10 minutes if the device has a good fast and furious setting on it (oh, a cover is important or you're gonna get covered), maybe 15-20 minutes otherwise. The solids will separate from the liquid in the bowl.

Transfer the solids to a strainer over a bowl and allow to drain. Then put the solids in a clean bowl and use the back of a large spoon to squeeze out excess liquid (this is not difficult at all).

You are left with two results.

The solid you squeezed out is... Butter! Fresh homemade, delicious good ol' butter! Lightly rinse the separated solids using a strainer under water, then let drain and kneed them together until they form a single solid. Put in a sealable container and keep in the fridge.

The liquid left behind? Buttermilk! Fresh delicious buttermilk.

Really can't be easier. Enjoy.

Comment submitted: 9/30/2010 (#11314)



View all 81 comments for this recipe.



---
Connect With Mr Breakfast: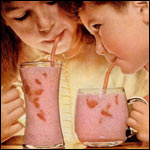 Breakfast In A Glass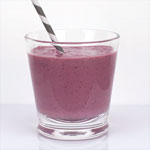 Antioxidant Smoothie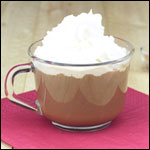 Mocha Coffee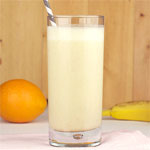 Banana Oatmeal Smoothie