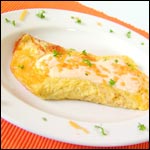 Cheese Omelette
2 eggs
2 teaspoons butter or margarine
1/4 cup shredded Cheddar cheese
Salt and pepper -- if desired
1. Beat eggs in small bowl with fork or wire whisk until yolks and whites are well mixed.
2. Heat butter in 8-inch skillet over medium-high heat until butter is hot and sizzling. As butter melts, tilt skillet to coat bottom with butter.
3. Quickly pour eggs into skillet. While rapidly sliding skillet back and forth over heat, quickly stir eggs with a fork to spread them continuously over the bottom of the skillet as they thicken. When they are thickened, let stand over heat a few seconds to lightly brown bottom of omelet. Do not overcook... the omelet will continue to cook after being folded. Sprinkle with cheese.
4. Tilt skillet and run a spatula under edge of omelet, then jerk skillet sharply to loosen omelet from bottom of skillet. Fold portion of omelet nearest you just to center. Allow for a portion of the omelet to slide up side of skillet. Turn omelet onto warm plate, flipping folded portion of omelet over so far side is on bottom. Tuck sides of omelet under if desired. Sprinkle with salt and pepper and additional cheese if desired.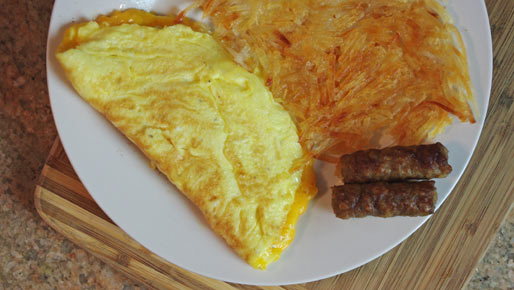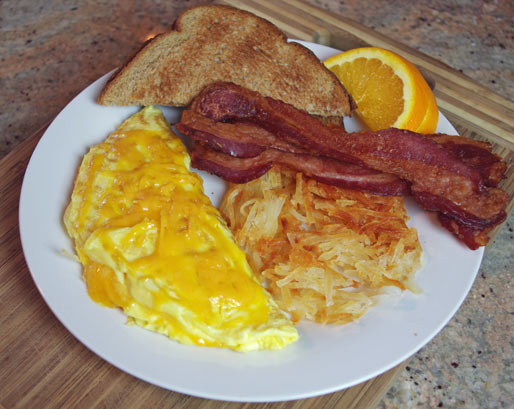 Nothing fancy. Just your fantastic basic cheese omelette. Try it with your favorite cheese or combination of cheeses.
Mr Breakfast would like to thank
manduboyi
for this recipe.
Comments About This Recipe
What do you think of Cheese Omelette?
Overall Average Rating =

(out of 5)




From Good2Eat
Simple... yet delicious and nutritious. I added Parmesan cheese to make it even more interesting. My son went crazy when he had it. I am sure he will be asking for another really soon.

Comment submitted: 10/8/2016 (#20068)



From RiyaSeth
Hey... I love this recipe. This is a very quick and easy cheese recipe for breakfast. I will definitely try this with my favorite goat cheese soon too.

Comment submitted: 6/22/2016 (#19978)



From Elizabeth 12y
Was so good. And so easy. My twelve year old can make it by herself! She says it's really yummy and the more cheese the better! Thank you!

Comment submitted: 6/13/2016 (#19973)



From Spencer G.
Simple but deliciously so. I mix Cheddar cheese and Pepper Jack so I get a little spice. Sometimes also mix a teaspoon of diced mild jalepeno from a can in with the eggs. Good recipe.

Comment submitted: 5/4/2016 (#19905)



From Kai-2
I loved it. Make it twice a week at least.

Comment submitted: 3/17/2015 (#19327)



From Jothi
I usually fry it with oil and use the normal cheese slices... but I love this even more then usual as the fragrance of butter and cheese melting is yummy. Thanks for recipe!

Comment submitted: 1/25/2015 (#19232)



From Andrew S.
Love this recipe, Nice cheesy omelette so simple yet so good :D

Comment submitted: 7/12/2014 (#18928)



From Ponte
I loved it. My wife loved. I don't EVER cook, so this was a big step for me. Thanks!

Comment submitted: 3/1/2014 (#17333)



From doner5
If you like a basic omelette, it's very good.

Comment submitted: 10/16/2013 (#16859)



From H. Franklin
I put two crispy bacon strips long-ways in each omelet. Yum!

Comment submitted: 7/18/2013 (#16178)



From SammiD
Wow! I make it for my parents... They always ask for more.

Comment submitted: 5/14/2013 (#15868)





From CreepysFan (Team Breakfast Member)
This was really great and super easy, plus I added onions.

Comment submitted: 3/17/2013 (#15415)



From VitaPi

If you beat the eggs with a Tablespoon of milk and 2 teaspoons flour, you get a fluffier omelette.

Comment submitted: 3/13/2013 (#15369)



From Rexmi
I added chopped ham - just chopped up slices from a lunch meat pack. I'm a super amateur cook - so this was very impressive coming from me. Good tasting recipe!

Comment submitted: 3/12/2013 (#15358)



From Aubree
Yummy. Turned out great.

Comment submitted: 12/2/2012 (#14923)



From Knox
I put American cheese and two spoons of leftover chili in the middle. I never cook, but my wife said it was great. I agree - I did good!

Comment submitted: 9/27/2012 (#14468)



From attune
Wow! Delicious! My first successful omlette. Thanks!

Comment submitted: 8/21/2012 (#14314)



From Emily K.
Delicious and out of this world!

Comment submitted: 8/19/2012 (#14305)



From Jack
Amazing. Best omelet I've ever tried / made.

Comment submitted: 6/20/2012 (#14066)



From OverTheTop
The person who posted this is a legend! My omelet turned out great! TOTALLY AWESOME!

Comment submitted: 6/13/2012 (#14054)



View all 190 comments for this recipe.



---
Connect With Mr Breakfast: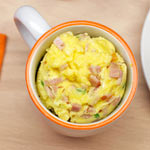 Microwave Farmers Omelet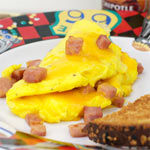 Ham & Cheese Omelette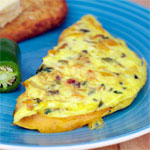 Jalapeno Omelet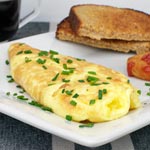 40 Second Omelet

When's the last time you had breakfast in a cup made of bacon?
Click here
.