E Cereals
17 cereals start
with the letter
"E"

CEREALS LISTED ALPHABETICALLY: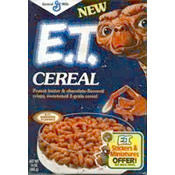 Featured "E" Cereal:
E.T.
As the box stated, E.T. Cereal was a "peanut butter and chocolate-flavored crispy, sweetened 2-grain cereal". The cereal pieces came in the shapes of the capital letters "E" and "T"...
Read More
Other Featured "E" Cereals:




Extra Cereal
More Cereals That Start with "E"