E Cereals
20 cereals start
with the letter
"E"

CEREALS LISTED ALPHABETICALLY: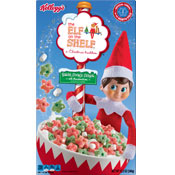 Featured "E" Cereal:
Elf On The Shelf
This holiday themed cereal is designated on the the box as the "official cereal of the North Pole". It's described as a "sugar cookie cereal with marshmallows." The cereal pieces are red and green stars with white marshmallows...
Read More
Other Featured "E" Cereals:






More Cereals That Start with "E"