K Cereals
34 cereals start
with the letter
"K"

CEREALS LISTED ALPHABETICALLY: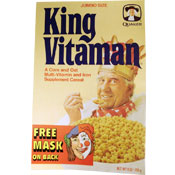 Featured "K" Cereal:
King Vitaman
From
Quaker
; Introduced in 1970
In development, this product was called King Vitamin. The name was changed when a federal regulatory agency disallowed the use of the name "vitamin" for a product that wasn't a vitamin. The second to last letter was changed to an "a" and King Vitaman was named...
Read More
Other Featured "K" Cereals:






More Cereals That Start with "K"