K Cereals
34 cereals start
with the letter
"K"

CEREALS LISTED ALPHABETICALLY: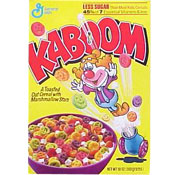 Featured "K" Cereal:
Kaboom
This cereal was described on one of the first boxes like this: "100% minimum daily requirements of vitamins and iron in 1 oz. sugary oat cereal with marshmallows and stars!"
The cereal pieces were...
Read More
Other Featured "K" Cereals:






More Cereals That Start with "K"