K Cereals
37 cereals start
with the letter
"K"

CEREALS LISTED ALPHABETICALLY: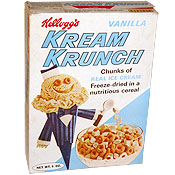 Featured "K" Cereal:
Kream Krunch
Kream Krunch cereal was introduced by Kellogg's in 1965 and lasted about one year. It was promoted with the line "Chunks of REAL ICE CREAM Freeze-dried in a nutritious cereal". Also known as "astronaut ice cream", freeze-dried ice cream was initially developed by the Whirlpool Corporation in association with NASA for the Apollo Space Missions...
Read More
Other Featured "K" Cereals:






More Cereals That Start with "K"