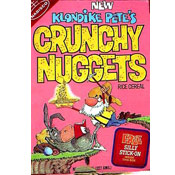 From: Nabisco
Introduced in 1972
Klondike Pete's Crunchy Nuggets came in both a "wheat cereal" and "rice cereal" variety. The cereal's mascot, Klondike Pete, was a bearded prospector who searched for gold with a mule named Thorndike.
The cereals began as
Ranger Joe Rice Honnies
and
Ranger Joe Wheat Honnies
in 1939. The National Biscuit Company (later known as Nabisco) bought the Ranger Joe cereals in 1954 and changed their names to
Rice Honeys
and
Wheat Honeys
.
In the late 1960's, sales of the Honeys cereals began to sag. In 1971, in an attempt to revive the cereals, the names were changed again, this time to
Winnie-The-Pooh Great Honey Crunchers
, which came in both rice and wheat varieties. Despite a barrage of marketing centered around the Winnie-The-Pooh character, the cereals' sales continued to disappoint.
Nabisco give the cereals one last shot. About a year after the Pooh incarnations were introduced, the cereal changed names for the last time, this time to Klondike Pete's Crunchy Nuggets, rice and wheat.
In 1975, Klondike Pete's Crunchy Nuggets was discontinued and the cereal that had existed under one name or another for 36 years was finally gone.
But... Klondike Pete, the mascot, wasn't gone. The old prospector turned up in the U.K. in 1999. The cereal box he appeared on was
Golden Nuggets
, a puffed cereal from Nestle. In his 24 year absence, Klondike Pete had gotten a new hat with the name "Pete" emblazoned on the front and a new mule, a character named Pardner.
Click here
to see all cereals from Nabisco.
---
Additional Images
---
Comments About This Cereal
What do you think of Klondike Pete's Crunchy Nuggets?

Overall Average Rating = 5 (out of 5)

By MG


| | |
| --- | --- |
| Cereal Rating (out of 5): | |

Comment under review by Mr Breakfast. Should appear within 24 hours.

Comment submitted: 9/30/2020 (#25541)



By Putucup


| | |
| --- | --- |
| Cereal Rating (out of 5): | |

Love this cereal!

Comment submitted: 5/14/2018 (#23058)



By Young78


| | |
| --- | --- |
| Cereal Rating (out of 5): | |

In the early 70's, I always bought this cereal for my kids, and for myself! I still look for it, and I am almost 80 years old! Yesterday saw some sweetened puffed rice rolls - they are good, and definitely reminded my of Klondike Pete.

Comment submitted: 12/9/2017 (#22505)



By Mike S.


| | |
| --- | --- |
| Cereal Rating (out of 5): | |

This was the BEST cereal ever! I wish they would bring it back. I would sometimes eat a whole box at breakfast!

Comment submitted: 12/16/2015 (#19757)



By J-Wolf


| | |
| --- | --- |
| Cereal Rating (out of 5): | |

The best ever. Klondike Pete where did you go?!!

Comment submitted: 11/13/2014 (#18018)



By Lili


| | |
| --- | --- |
| Cereal Rating (out of 5): | |

I have been going out of my mind trying to remember the name of this cereal! What I do remember is sitting in the seat of my mother's grocery cart holding on to the box. I couldn't wait to get home and have a bowl! Wow, so many years ago.

Comment submitted: 3/30/2014 (#16540)



By brett


| | |
| --- | --- |
| Cereal Rating (out of 5): | |

I have tried about every cereal that ever existed and nothing is as good as this one. I still remember the dang taste!

Comment submitted: 2/26/2014 (#16167)



By gary 1958


| | |
| --- | --- |
| Cereal Rating (out of 5): | |

I really remember loving this cereal. It was awesome. I wish they would bring back Klondike Pete!

Comment submitted: 9/25/2012 (#9228)



By Mrsspdy

I would love to see these vintage commercials. My favorite... Pete says, There's gold in them thar hills and Pardner says, There's rocks in that thar head. That has been a family inside joke since I was a kid!

Comment submitted: 6/11/2011 (#5062)



By KGH

I never actually got to eat the cereal. My dad worked for Leo Burnett (e.g nothing but Kellogg's). But I DO remember T.V. commercials for this cereal. (Crunchy Nuggets Taste as Good as Gold!) Why THIS one out of all of the Innumerable Cereal commercials available to a kid in the early 70's I couldn't tell you. But if anyone happens to have a recording, it Would be fun to see it on You Tube. Regards, KGH

Comment submitted: 3/10/2010 (#1591)