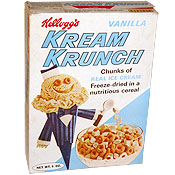 From: Kellogg's
Introduced in 1965
Kream Krunch cereal was introduced by Kellogg's in 1965 and lasted about one year. It was promoted with the line "Chunks of REAL ICE CREAM Freeze-dried in a nutritious cereal". Also known as "astronaut ice cream", freeze-dried ice cream was initially developed by the Whirlpool Corporation in association with NASA for the Apollo Space Missions. Interestingly, freeze-dried ice cream appeared in this cereal three years before it first went to space as part of the Apollo 7 mission.
Kream Krunch came in three varieties: vanilla, orange and strawberry. The main cereal pieces in Kream Krunch were Cheerios-shaped pieces made from corn, wheat and oats.
Text from a 1965 Kellogg's print ad:
"Now - Ice Cream in a nourishing cereal. Crisp chunks of real ice cream (freeze-dried) right in with the good grain. The kids won't believe it. (Maybe you won't either!) But thanks to freeze-drying, we've taken the cold out of ice cream, made it crisp and crunch, so it keeps without refrigeration right in a package of cereal. And what a cereal! A cripsp, nourishing blend of hearty corn, wheat and oats that's a treat by itself. With the ice cream it's... well taste it see for yourself. At your grocer's now."
Some radical cereal enthusiasts have noted that the initials for Kellogg's Kream Krunch spell out "KKK" and that the cone mascot usually associated with the cereal is vanilla-white. Such inklings of racial bias have little merit since the cone mascot also appeared with ice cream skin tones of orange and strawberry red on corresponding variations of the cereal.
Among cereal box collectors the Kream Krunch box is considered a real rarity. In 2005, a box sold for $1,200.
Click here
to see all cereals from Kellogg's.
---
Featuring: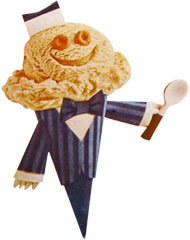 Kream Krunch Cone

The mascot for Kream Krunch was an ice cream cone dressed like a soda jerk. Cereal historians have come to call the character the Kream Krunch Cone or Kream Krunch Kone, although documentation legitimizing his official name seems to have been lost to time.

The mascot shared certain key attributes with the first mascot used on Apple Jacks cereal, which was introduced by Kellogg's in 1965 - the same year as Kream Krunch. Like the Kream Krunch cone, the Apple Jacks apple was an image of a real food item with cereal pieces for eyes. Both mascots also wore slick hats.
---
Additional Images
---
Comments About This Cereal
What do you think of Kream Krunch?

Overall Average Rating = 4 (out of 5)

By commercial girl

I was a young actress in the tv commercial for Kream Krunch in 1965, along with Anissa Jones, who soon after was cast in "Family Affair". I never saw the commercial and still can't find it anywhere.

Comment submitted: 3/19/2019 (#24031)



By Katy Moon


| | |
| --- | --- |
| Cereal Rating (out of 5): | |

FYI, This cereal was discontinued very quickly after being introduced because of a patent infringement on the freeze-drying process. Likewise, Post Corn Flakes with Blueberries, Corn Flakes with Strawberries and Corn Flakes with Peaches were also discontinued for the same reason.

Comment submitted: 2/6/2019 (#23921)



By B.I.B.


| | |
| --- | --- |
| Cereal Rating (out of 5): | |

Wish they would try making this cereal again today!

Comment submitted: 5/3/2015 (#18963)



By Seven Dots

@buzzer - there's also been 50 years of stuff changing the tastes of young kids thus creating the cereals we have today. It's not for lack of creativity, they just didn't have much back then.

Comment submitted: 2/22/2013 (#10977)



By royboy

I had this cereal when I was 7 and loved it. My parents wouldn't buy it for me, but my babysitter did. What a wonderful girl she was.

Comment submitted: 2/7/2012 (#6441)



By buzzer

Amazing! Makes our cereals today seem so boring and not inventive. At least they were trying to do crazy new things in the 60's.

Comment submitted: 11/7/2011 (#5663)



By Lionhearted

Kream Krunch came in orange, vanilla and strawberry. Why in the world didn't it come in chocolate?

Comment submitted: 6/7/2011 (#5032)



By jenabyrd11

What were they thinking? I had never heard of this and my mother would not have bought it even if I wanted it.

Comment submitted: 3/13/2011 (#4121)





By OplydOleo (Team Breakfast Member)


| | |
| --- | --- |
| Cereal Rating (out of 5): | |

I still remember the rarely-seen TV commercial jingle: "Hey kids, have you heard the news? / The whole wide world is screamin' it! / Kellogg's has taken a nourishing cereal / and put - real ice cream in it!"

Comment submitted: 12/16/2010 (#3449)





By poppasquash (Team Breakfast Member)

Oh wow I really would like to try this. Freeze dried ice cream... why aren't cereals doing this today? Why? WHY?!

Comment submitted: 9/13/2010 (#2843)