L Cereals
39 cereals start
with the letter
"L"

CEREALS LISTED ALPHABETICALLY: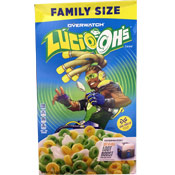 Featured "L" Cereal:
Lucio Oh's
The complete name of this cereal is Overwatch Lucio Oh's. It first appeared in December of 2018. It consists of green and yellow loops with a flavor described as "sonic vanilla". Lucio is a character from a video game called Overwatch...
Read More
Other Featured "L" Cereals:






More Cereals That Start with "L"