V Cereals
23 cereals start
with the letter
"V"

CEREALS LISTED ALPHABETICALLY: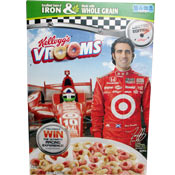 Featured "V" Cereal:
Vrooms
This limited edition cereal was described on the box as a "frosted multigrain cereal with red-circle fun!" Introduced on August 19, 2012, three different boxes were available. One featured Scottish racing car driver Dario Franchitti, winner of the 2007, 2010 and 2012 Indianapolis 500...
Read More
Other Featured "V" Cereals:






More Cereals That Start with "V"