Z Cereals
7 cereals start
with the letter
"Z"

CEREALS LISTED ALPHABETICALLY: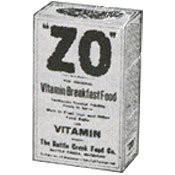 Featured "Z" Cereal:
ZO
This cereal was described in a magazine ad as "ready to serve breakfast food that is rich in vitamins. It makes children grow - eat crispy 'ZO.'" Another ad called it a "toothsome vitamin cereal...
Read More
Other Featured "Z" Cereals:






More Cereals That Start with "Z"