D Cereals
34 cereals start
with the letter
"D"

CEREALS LISTED ALPHABETICALLY: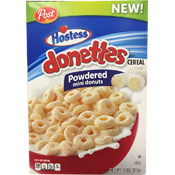 Featured "D" Cereal:
Donettes
From
Post
; Introduced in 2019
The complete name of this cereal is Hostess Donettes. It's described on the front of the box as "powdered mini donuts."
The back of the introductory box gives a longer description: "Mini donuts bring MEGA smiles! Hostess Donettes cereal turns...
Read More
Other Featured "D" Cereals:






More Cereals That Start with "D"