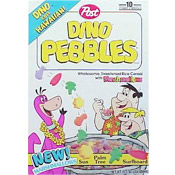 From: Post
Introduced in 1990
This cereal was described on the box as a "wholesome sweetened rice cereal with marshmallows." The marshmallows were purple, yellow, orange and green dinosaurs, ala Dino - the TV cartoon character from
The Flintstones
. Later, marshmallows shaped like suns, palm trees and surf boards were added. The cereal itself was vanilla flavored.
Dino Pebbles was described in TV ads as being "Marshmallow Dino-licious!"
In one rendition, the cereal was subtitled "Dino's Dinosaur Party" and the marshmallows were changed to be 6 different dinosaur shapes.
Known premiums: Dino's Hawaiian Fun And Games Book, Dino Stickers, a Color Changing Dinosaur and a send-away offer for Dinosaur Cookie Cutters.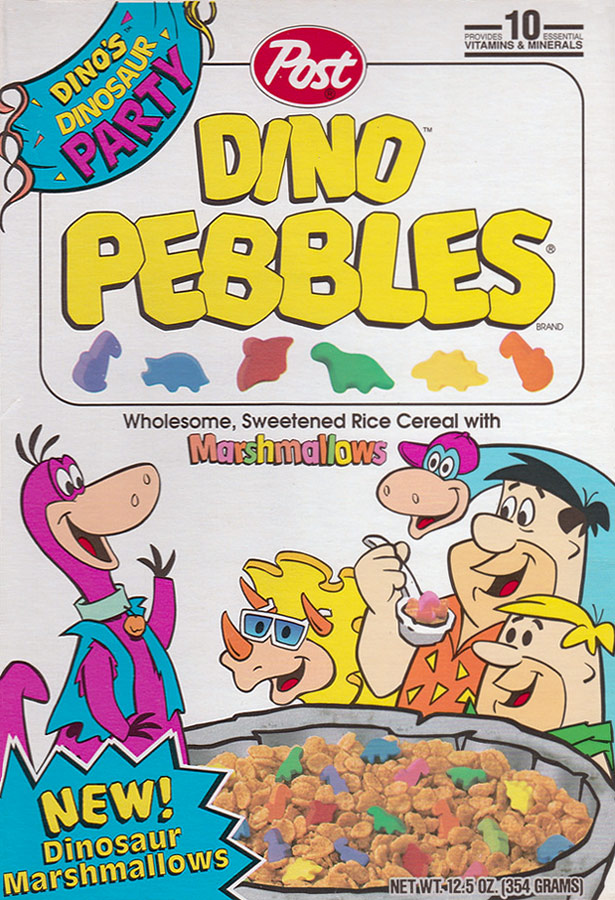 The following description is from one of the very first boxes:
Dino, the yip-yip-yappiest lovable pet in Bedrock, has a new surprise. It's his all-new Dino Pebbles brand cereal. And, it's direct from Bedrock.

So, have fun at breakfast and get your mouth going yip-yip-yip just like Dino.

Only Dino Pebbles mixes delicious rice cereal with marshmallows shaped like Dino for a taste that's Dino-licious.

Made from wholesome rice and fortified with 10 essential vitamins and minerals, Dino Pebbles is a great way to start your day as part of a nutritious breakfast.

Dino Pebbles... simply yabba-dabba delicious!
Click here
to see all cereals from Post.
This cereal belongs to the following Mr Breakfast Cereal Families:

---
Dino Pebbles Cereal Theater

Now Showing: 1990 Dino Pebbles Commercial
---
Additional Images
Dino Pebbles Color Changing Dinosaur
Submitter: jeffrey
Uploaded: 10/29/2010
Additional details
---
Comments About This Cereal
What do you think of Dino Pebbles?

Overall Average Rating = 5 (out of 5)

View all 17 comments for this cereal.


By Jay


| | |
| --- | --- |
| Cereal Rating (out of 5): | |

Why hasn't this cereal returned yet? It was my favorite.

Comment submitted: 7/3/2018 (#23218)



By Abbad Abbay


| | |
| --- | --- |
| Cereal Rating (out of 5): | |

I used to get in huge fights with my parents about eating too much of this amazing cereal. It offered the sugar I craved with the decadent marshmallows, all while giving me wholesome rice cereal. Yabba Dabba doooo!!!

Comment submitted: 3/13/2017 (#21487)



By arezlee


| | |
| --- | --- |
| Cereal Rating (out of 5): | |

I still scan the shelves every time I grocery shop in hopes that Post has finally brought back this pinnacle of cereal deliciousness.

Comment submitted: 5/11/2016 (#20288)



By DivaMandy83


| | |
| --- | --- |
| Cereal Rating (out of 5): | |

This one is better than Fruity and Coco Pebbles. I'd buy a box if it came back.

Comment submitted: 11/6/2013 (#15268)



By AnimeFan


| | |
| --- | --- |
| Cereal Rating (out of 5): | |

Do they still sell this cereal? It was great back when I had it as a kid.

Comment submitted: 12/8/2012 (#10100)





By sypox (Team Breakfast Member)


| | |
| --- | --- |
| Cereal Rating (out of 5): | |

Does anyone have color changing dinosaurs from these boxes by chance? I'm looking for pink and green pterodactyl and would gladly buy one.

Comment submitted: 11/1/2012 (#9790)



By Bonnie

The best cereal when I was 6 years old was Dino Pebbles cereal. I wish it would come back to New York City because I miss it a lot so please bring it back. Thank you. By Bonnie.

Comment submitted: 9/9/2012 (#9069)



By See Real

Does any one know when this cereal came out - what year - and when they stopped making it. I have had Fruity Pebbles - I like those, but not as much as this cereal.

Comment submitted: 2/25/2012 (#6610)



By Early Byrd


| | |
| --- | --- |
| Cereal Rating (out of 5): | |

I miss this cereal. I bought Marshmallow Pebbles thinking it was the same, but it's not :(

Comment submitted: 2/15/2012 (#6521)



By beju


| | |
| --- | --- |
| Cereal Rating (out of 5): | |

Man, I wish they still had this cereal! I miss it terribly! The most delicious cereal - words can not describe.

Comment submitted: 1/5/2012 (#6125)



View all 17 comments for this cereal.