R Cereals
74 cereals start
with the letter
"R"

CEREALS LISTED ALPHABETICALLY: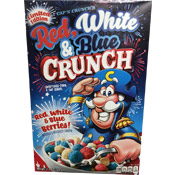 Featured "R" Cereal:
Red, White & Blue Crunch
From
Quaker
; Introduced in 2019
This limited edition Cap'n Crunch cereal came out in the late Spring of 2019 - plenty of time before the 4th of July holiday that the cereal celebrates. It's described on the front of the box as a "sweetened corn & oat cereal (with) red, white & blue berries." The berries referred to are...
Read More
Other Featured "R" Cereals:






More Cereals That Start with "R"