R Cereals
71 cereals start
with the letter
"R"

CEREALS LISTED ALPHABETICALLY: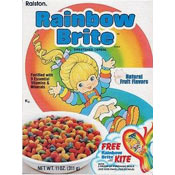 Featured "R" Cereal:
Rainbow Brite
The introduction of this cereal coincided with the release of the 1985 movie
Rainbow Brite and the Star Stealer
. The
Rainbow Brite
animated TV series debuted a year earlier in 1984. This product was described on the box as a "sweetened cereal" with "natural fruit flavors" that was...
Read More
Other Featured "R" Cereals:






More Cereals That Start with "R"