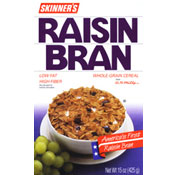 From: Skinner's
Introduced in 1926
Lloyd Skinner is credited as the first man to add fruit to a ready-to-eat cereal. The fruit was raisins. He trademarked his creation as Skinner Raisin Bran. He got the idea from watching his wife add raisins to wheat flakes.
From the U.S. Mills website:
"Try the great taste of America's 1st Raisin Bran - introduced in 1926. Made from toasted whole grain wheat flakes complete with the bran and germ and select California raisins."
Company Description:
This brand of U.S. Mills was introduced in 1926 with Skinner's Raisin Bran, the nation's very first raisin bran cereal. We have not found any other cereals under the Skinner's brand and currently believe this is the only Skinner's cereal to be produced. Please let us know if you have information pertaining to additional Skinner's cereals.
This cereal belongs to the following Mr Breakfast Cereal Families:

---
Additional Images
---
Comments About This Cereal
What do you think of Raisin Bran (Skinner's)?

Overall Average Rating = 5 (out of 5)

View all 29 comments for this cereal.




By RUFUS (Team Breakfast Member)


| | |
| --- | --- |
| Cereal Rating (out of 5): | |

Skinner's was my go to breakfast in the early 40 and 50s. Whether we were going to school, the hay fields, or sheep shearings. I could have just about anything I wanted, but my favorite was Skinner's Raisin Bran with sugar, fresh cream and milk, coffee milk, and a hot cathead biscuit with homemade butter and syrup. Real fond memories.

Comment submitted: 5/9/2019 (#24153)





By catlady (Team Breakfast Member)


| | |
| --- | --- |
| Cereal Rating (out of 5): | |

I am 51 years old and have never forgotten this cereal. I even remember the character and commercial I made up for it when I was a child, and am planning to make a video of that for my YouTube channel. That's why I looked it up! I love Skinner's Raisin Bran!

Comment submitted: 3/24/2019 (#24041)



By Me83yrs


| | |
| --- | --- |
| Cereal Rating (out of 5): | |

I am 83 years old, Skinner's was my dad and my favorite cereal. Now it seems to be discontinued? Bummer!

Comment submitted: 11/20/2018 (#23715)



By Jake


| | |
| --- | --- |
| Cereal Rating (out of 5): | |

Please advise as to what national stores carries Skinner's.

Comment submitted: 2/27/2017 (#21422)



By Charlie 86

I'm 86 years old and I have been eating Skinner's Raisin Bran virtually all of my life, when I could find it. I remember prizes in the box, and especially little cards, like baseball cards, which I collected for years. I can't remember what they pertained to. Who does? My grocer has just stopped carrying this item, probably because the ridiculously high price discouraged customers. But I see it's available on line.

Comment submitted: 2/1/2017 (#21334)



By JohnnyCake


| | |
| --- | --- |
| Cereal Rating (out of 5): | |

Does anybody else remember the prizes? Skinner's had better prizes than Cracker Jack. I think I still have a little compass that came in one box (probably 50 years ago). I think that was the reason for the Boys' and Girls' versions mentioned by another commentator: The prizes were gender-specific. A joy of childhood was the treasure that came in a Skinner's box.

Comment submitted: 1/14/2017 (#21251)



By 220 VOLT


| | |
| --- | --- |
| Cereal Rating (out of 5): | |

You can order it online from Wal-mart, Amazon and several other online stores.

Comment submitted: 10/26/2015 (#19595)



By Ole Lady


| | |
| --- | --- |
| Cereal Rating (out of 5): | |

I was born in the early 1940's and ate Skinner's Raisin Bran always. It used to be the only brand on the shelf. The more popular brands do not have the same taste to the bran flake as Skinner's. I always wondered why Skinner's doesn't advertise this product as being more nutritious, etc. because people today are willing to pay more money for something more healthy. But how will they know if it's not advertised in the store, TV, or anywhere. There was one store around that carried the Uncle Sam's w/ Skinner's written on bottom of box. Now several stores carry Uncle Sam's Flax cereal but not the Skinner's Raisin Bran. Please advertise it so there will be a demand and more stores will begin carrying it. It's the ONLY one I will eat and I really miss it! Thanks.

Comment submitted: 6/23/2015 (#19154)





By loyaltubist (Team Breakfast Member)


| | |
| --- | --- |
| Cereal Rating (out of 5): | |

The first time I saw this cereal (summer 1965), I was seven years old on vacation to see family in Oklahoma and Missouri and Skinner's Raisin Bran was everywhere. I remember they had a Boy version and a Girl version. Since the distant cousin I was visiting was a girl, I (a boy), had to eat the Girl version. It's a little less refined than Post, Kellogg's, or the store brand I ate back home in Southern California. I like raisin bran and this is my favorite. And it has lots of fiber! (And it looks like they are rebranding this as 'Uncle Sam's' Raisin Bran. Too bad. Don't those guys at Attune Foots/Post Holdings know how important Mr. Skinner was to raisin bran history? (Very sad.)

Comment submitted: 3/26/2015 (#18800)



By Skinner Lover


| | |
| --- | --- |
| Cereal Rating (out of 5): | |

I'm 68 years old. I love Skinner Raisin Bran! My Dad is 90 and I have sisters ages 57, 61, 64, and 70. We talk about this cereal quite often, and the fact that you never see it anymore... We loved it. One of my sisters actually was able to find it online and bought all of us some. NOT UNCLE SAM brand. Just Skinners Raisin Bran. Where can we get it?

Comment submitted: 2/25/2015 (#18607)



View all 29 comments for this cereal.