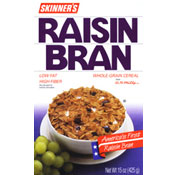 From: Skinner's
Introduced in 1926
Lloyd Skinner is credited as the first man to add fruit to a ready-to-eat cereal. The fruit was raisins. He trademarked his creation as Skinner Raisin Bran. He got the idea from watching his wife add raisins to wheat flakes.
From the U.S. Mills website:
"Try the great taste of America's 1st Raisin Bran - introduced in 1926. Made from toasted whole grain wheat flakes complete with the bran and germ and select California raisins."
Company Description:
This brand of U.S. Mills was introduced in 1926 with Skinner's Raisin Bran, the nation's very first raisin bran cereal. We have not found any other cereals under the Skinner's brand and currently believe this is the only Skinner's cereal to be produced. Please let us know if you have information pertaining to additional Skinner's cereals.
This cereal belongs to the following Mr Breakfast Cereal Families:

---
Additional Images
---
Comments About This Cereal
What do you think of Raisin Bran (Skinner's)?

Overall Average Rating = 5 (out of 5)

View all 32 comments for this cereal.


By NY 70s Kid


| | |
| --- | --- |
| Cereal Rating (out of 5): | |

My recollection of it from the 1970s was that compared to Post, Kellogg's and supermarket brands, Skinner's was pretty tough sledding. Man, that stuff hurt to chew. And I had strong teeth. Still do, in my 50s. Wouldn't go near it again. I do remember the metal spout on the box, which was the main cool thing about it. I thought there was some connection to the behaviorist scientist BF Skinner but apparently not?

Comment submitted: 8/6/2020 (#25391)



By coloradofalls


| | |
| --- | --- |
| Cereal Rating (out of 5): | |

I love Skinners! I didn't appreciate it until I was in college and then my precious mom would send me Skinner's in my care package. It is both a fond memory of my mom, and a much missed anytime cereal from my table. I wish it was available in Houston!

Comment submitted: 6/16/2020 (#25289)





By Ajord (Team Breakfast Member)


| | |
| --- | --- |
| Cereal Rating (out of 5): | |

I grew up on Skinner's Raisin Bran in the early 1960s. The cardboard box was wrapped in a paper cover that had the pictures and label on it, and to pour the cereal, there was a metal spout on the side that you would pull out. I had not seen the cereal in years, and then about six years ago, Grocery Outlet in Idaho and Eastern Oregon got a huge batch that they sold at a huge discount. I bought quite a lot, and it tasted just the same as I remembered. The wheat flakes had a sort of malt taste, and of course the raisins were a bit hard rather than plump, but the cereal was fantastic and it brought back memories of people long gone. Now if only someone would make Wheat Honeys and Rice Honeys again.

Comment submitted: 4/21/2020 (#25090)





By RUFUS (Team Breakfast Member)


| | |
| --- | --- |
| Cereal Rating (out of 5): | |

Skinner's was my go to breakfast in the early 40 and 50s. Whether we were going to school, the hay fields, or sheep shearings. I could have just about anything I wanted, but my favorite was Skinner's Raisin Bran with sugar, fresh cream and milk, coffee milk, and a hot cathead biscuit with homemade butter and syrup. Real fond memories.

Comment submitted: 5/9/2019 (#24153)





By catlady (Team Breakfast Member)


| | |
| --- | --- |
| Cereal Rating (out of 5): | |

I am 51 years old and have never forgotten this cereal. I even remember the character and commercial I made up for it when I was a child, and am planning to make a video of that for my YouTube channel. That's why I looked it up! I love Skinner's Raisin Bran!

Comment submitted: 3/24/2019 (#24041)



By Me83yrs


| | |
| --- | --- |
| Cereal Rating (out of 5): | |

I am 83 years old, Skinner's was my dad and my favorite cereal. Now it seems to be discontinued? Bummer!

Comment submitted: 11/20/2018 (#23715)



By Jake


| | |
| --- | --- |
| Cereal Rating (out of 5): | |

Please advise as to what national stores carries Skinner's.

Comment submitted: 2/27/2017 (#21422)



By Charlie 86

I'm 86 years old and I have been eating Skinner's Raisin Bran virtually all of my life, when I could find it. I remember prizes in the box, and especially little cards, like baseball cards, which I collected for years. I can't remember what they pertained to. Who does? My grocer has just stopped carrying this item, probably because the ridiculously high price discouraged customers. But I see it's available on line.

Comment submitted: 2/1/2017 (#21334)



By JohnnyCake


| | |
| --- | --- |
| Cereal Rating (out of 5): | |

Does anybody else remember the prizes? Skinner's had better prizes than Cracker Jack. I think I still have a little compass that came in one box (probably 50 years ago). I think that was the reason for the Boys' and Girls' versions mentioned by another commentator: The prizes were gender-specific. A joy of childhood was the treasure that came in a Skinner's box.

Comment submitted: 1/14/2017 (#21251)



By 220 VOLT


| | |
| --- | --- |
| Cereal Rating (out of 5): | |

You can order it online from Wal-mart, Amazon and several other online stores.

Comment submitted: 10/26/2015 (#19595)



View all 32 comments for this cereal.