B Cereals
93 cereals start
with the letter
"B"

CEREALS LISTED ALPHABETICALLY: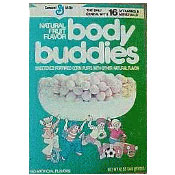 Featured "B" Cereal:
Body Buddies
During it's short time on earth, Body Buddies was promoted as a healthy cereal for kids. Four seemingly-healthy cartoon children were shown on the box cover and this team is presumed to be mascots known as The Body Buddies. They were shown with sporting equipment to further promote the cereal's image as a healthy breakfast option...
Read More
Other Featured "B" Cereals:






More Cereals That Start with "B"