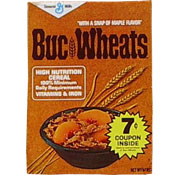 From: General Mills
Introduced in 1971
According to cereal boxes from the 1970's, Buc Wheats cereal was a "high nutrition cereal (with) 100% minimum daily requirements (for) vitamins and iron... with stoneground buckwheat... (and) a snap of maple flavor".
Using achieved grocery store circulars, MrBreakfast.com has been able to prove this cereal was in existence as early as 1971 and as late as 1983.
Those who remember the cereal have said the following:
"Buc-Wheats cereal was pretty much corn flakes mixed with the dark buckwheat. Essentially, they looked like bran flakes as far as color, but they were lighter more like corn flakes. Here was the kicker, instead of being covered with powdered sugar as like Frosted Flakes, they were coated with a Maple Syrup glaze, which really enhanced the flavor of the flake."

"Kinda like dark colored Frosted Flakes, but they were glazed with sugar, instead of covered in powdered sugar. They were more wheat flavored, and quite yummy."

"When they had enough glaze that sometimes they'd stick together in a huge lump in the box."
There are conflicting reports that the cereal may have been originally produced by the Ralston Purina Company. Most of these accounts infer that the the cereal traded hands when General Mills purchased Ralston's cereal line. Since this event took place in 1994 long after Buc Wheats had disappeared from grocery store shelves, it is unlikely that Ralston originally produced the cereal.
In 1974, New York composer Steve Karmen penned a jingle for the cereal titled "Feelin' Like A Million Bucks". There is an unverified account that another jingle with the lyrics "pass the buck, pass the buck, pass the Buc Wheats" also existed.
It's known that television commercials with the following plot lines were produced for the cereal:
- water mill grinds grains, then man eat product
- man in Vermont cabin says product has maple syrup flavor
- wife serves product to her husband
- man getting maple syrup from trees eats cereal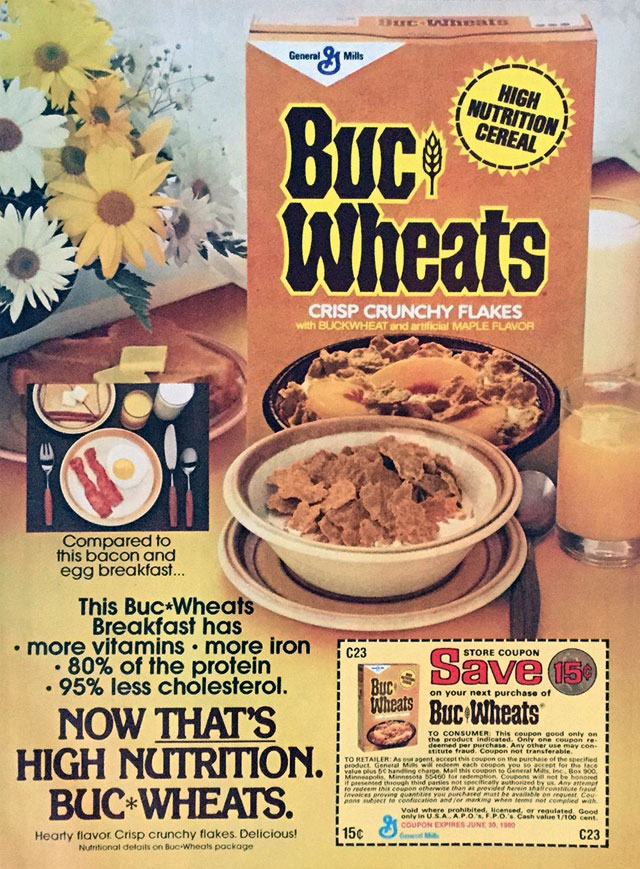 Late in the production of the cereal, General Mills replaced the maple glaze with a honey coating. Fans of the original version were united in feeling that Buc Wheats had lost its magic. The new version was said to taste like a sweet and sticky bowl of Wheaties.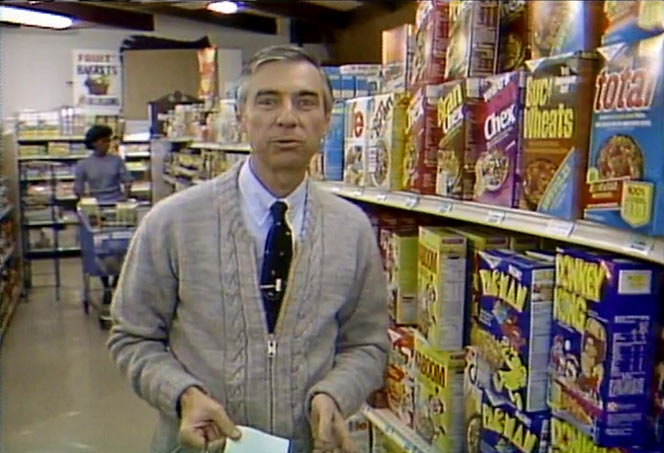 In a 1984 episode (#1529) of
Mr. Rogers' Neighborhood
, Mr. Rogers takes a trip down the cereal aisle where you can see Buc Wheats Cereal along with other discontinued favorites like Pac-Man Cereal and Donkey Kong Cereal.
Click here
to see all cereals from General Mills.
---
Buc Wheats Cereal Theater

Now Showing: 1976 Pass The Buc Wheats Ad
---
Additional Images
---
Comments About This Cereal
What do you think of Buc Wheats?

Overall Average Rating = 5 (out of 5)

View all 313 comments for this cereal.


By racer X


| | |
| --- | --- |
| Cereal Rating (out of 5): | |

All time favorite cereal... unique taste and texture that no one has ever duplicated. I think it would be successful in this day and age of whole grains. BRING IT BACK!

Comment submitted: 3/4/2019 (#23991)





By Carllockridge (Team Breakfast Member)


| | |
| --- | --- |
| Cereal Rating (out of 5): | |

Buc Wheats was a great tasting cereal! Wish I could find where to purchase?

Comment submitted: 1/20/2019 (#23869)



By Rexacer

Another cereal I really liked. Mom would never buy 'sweet' cereals for us, but these (and Life) were the 2 we could get past her.

Comment submitted: 11/17/2018 (#23711)



By B.W. Fan Man


| | |
| --- | --- |
| Cereal Rating (out of 5): | |

I bought a dusty box of Buc Wheats on December 1st 1985. I remember the date because it was the first day of our honeymoon when I saw the box in a convenience store and had to get them because it was one of my favorite cereals and I hadn't seen it for a few years.

Comment submitted: 11/9/2018 (#23690)



By Steeler Mike


| | |
| --- | --- |
| Cereal Rating (out of 5): | |

Hey... if you liked Buc Wheats, you gotta try Pumpkin Spice Frosted Flakes... very eerie... tastes very similar!

Comment submitted: 11/8/2018 (#23685)



By SpartyMike


| | |
| --- | --- |
| Cereal Rating (out of 5): | |

Buc Wheats were still made in Australia with maple as late as the late 1980's because I had them imported into Japan back then. The last hurrah for a great cereal.

Comment submitted: 10/5/2018 (#23564)





By brigida46 (Team Breakfast Member)


| | |
| --- | --- |
| Cereal Rating (out of 5): | |

I have never been a huge cereal eater, even as a child, but Buc Wheats was one of my all time favorites. How I miss this cereal, as well as a few others from my childhood. I wish they would bring this one back.

Comment submitted: 7/8/2018 (#23245)



By Levi


| | |
| --- | --- |
| Cereal Rating (out of 5): | |

My mum used to get this for me all the time. I have discovered that yes, if you put legit REAL maple syrup on Wheaties, the taste is close. Not 100%, but it's close.

Comment submitted: 5/29/2018 (#23094)



By Jinxgirl


| | |
| --- | --- |
| Cereal Rating (out of 5): | |

Looking to see if I could find Buc Wheats cereal being sold online from another part of the country. My favorite cereal of all time. Would love to see a come back of it.

Comment submitted: 5/14/2018 (#23057)



By Biff


| | |
| --- | --- |
| Cereal Rating (out of 5): | |

One of my all-time favorites. Many years later, I still get cravings for this cereal. I never understood why it was discontinued though someone said later that GM started putting honey on it instead of maple syrup. I don't recall that and maybe it was when my dad quit buying it. I've actually thought of buying Wheaties and putting maple syrup on them, mixing it all up, and putting it in the oven to bake it on.

Comment submitted: 4/19/2018 (#22937)



View all 313 comments for this cereal.