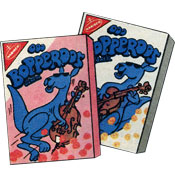 From: Nabisco
Introduced in 1974
This actual name of this cereal was "OOOBopperoos", but it's listed here as "Booperoos" because most people considered the "OOO" above the word "Bopperoos" to be descriptive, as in "Oooooh... Bopperoos (are good)."
A blueberry-flavored version of the cereal was available in few test markets. Surveys found that kids liked the flavor, but the data regarding repeat sales was disappointing. The cereal was dropped before it received national distribution.
The mascot for the cereal was a blue kangaroo wearing sunglasses and playing a stand-up bass.
A 1975 newspaper ad for the cereal had the following copy:
Hey, Mom! Set breakfast bopping' a crunchy new way!

I'm the Blue Kangaroo.
How do you do?
Got two new flavors of Ooo-Bopperoos.
Fruit Flavor Ooo-Bops and Crisp Sugar, too.
With the vitamins and iron that your kids need, too.
New Ooo-Bopperoos Cereal from Nabisco -
they'll set your family's breakfast bopping'!
We've found no evidence that the Crisp Sugar variety ever became available. Old boxes of Ooo-Bopperoos are seemingly impossible to find and are a Holy Grail item among the most die-hard cereal box collectors.
We've determined that this cereal was introduced in 1974 based on the date that "Ooo-Bopperoos" was trademarked. That's supported by newspaper ads introducing the cereal in late 1974 and early 1975. A book called "The Great American Cereal Book: How Breakfast Got Its Crunch" incorrectly assigned an introductory date of 1972.
Click here
to see all cereals from Nabisco.
---
Additional Images
OOO Bopperoos Stickers From 1971
Submitter: Mr Breakfast
Uploaded: 9/23/2008
Additional details
---
Comments About This Cereal
What do you think of Bopperoos?

Overall Average Rating = 5 (out of 5)

By StickUp4Breakfa


| | |
| --- | --- |
| Cereal Rating (out of 5): | |

I grew up in Milwaukee too, and I fondly remember Saturday morning ads featuring a Louis Armstrong-like, raspy-voiced, sunglass-wearing cartoon jazz bassist named the "Blue Kangaroo" - who rapped the following lyrics over a Dixieland combo - playing in D major (I have perfect pitch): "I'm the Blue Kangaroo. How do you do? I've got a new cereal called OOO Boperoos. Fruit flavored ooo bops and crisp sugar too..." (sound effect - boing, boing, boing) (pause) (trombone gliss up) - new key of Eb... "I'm the Blue Kangaroo..." etc. I purchased OOO Boperoos with my hard-earned lawn-mowing cash at age 10. I was sad to see it disappear.

Comment submitted: 4/3/2016 (#20151)



By Doug


| | |
| --- | --- |
| Cereal Rating (out of 5): | |

Been looking for the audio of the commercial. Does anyone have it or know anyone who could help?

Comment submitted: 10/7/2014 (#17796)



By Stephanie


| | |
| --- | --- |
| Cereal Rating (out of 5): | |

I grew up in Milwaukee. I liked this cereal, really grooved on the Blue Kangaroo. Liked it better than Boo Berry.

Comment submitted: 6/29/2012 (#8216)





By JerryD (Team Breakfast Member)

I have some of the original cartoon cels that are way cool! Some are framed, some loose! Will sell if anyone interested... jerdoggett@att.net

Comment submitted: 3/29/2011 (#4223)



By love cereal


| | |
| --- | --- |
| Cereal Rating (out of 5): | |

I loved this cereal and the song was so catchie. I ate enough of that ceral to send away for my blue kangaroo t-shirt. I still have it.

Comment submitted: 11/19/2010 (#3302)



By Finster


| | |
| --- | --- |
| Cereal Rating (out of 5): | |

Great commercial. I can still sing part of it today would love to see the original commercial.

Comment submitted: 3/8/2010 (#1572)



By Erin


| | |
| --- | --- |
| Cereal Rating (out of 5): | |

Loved the commercial for this cereal: "I'm the blue kangaroo! How do you do? Got a new cereal, OooBopparoos! Fruit-flavored OooBobs keep you hoppin'"! Used the character in a play during that time - still have the blue kangaroo costume!

Comment submitted: 1/31/2010 (#1336)



By larrylee


| | |
| --- | --- |
| Cereal Rating (out of 5): | |

I was 6 years old when this cereal was marketed. I have fond memories of this cereal for some reason. I have the bottom sticker (posted above) stuck to the side of my Kung Fu lunch box which sits in my parents basement to this day...

Comment submitted: 10/20/2009 (#777)