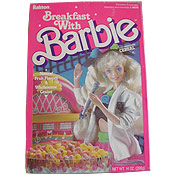 From: Ralston
Introduced in 1989
Plus information about Barbie Fairytopia Cereal and the Breakfast With Barbie Doll.
Ralston introduced Breakfast With Barbie Cereal in 1989 to capitalize on the success of Mattel's Barbie doll - the best-selling fashion doll of all-time. The cereal pieces were yellow and multiple shades of pink and were made to resemble tiny hearts, bows, stars, cars and the capital letter "B" . According to the box, Breakfast With Barbie Cereal contained "Natural Fruit Flavors" and "4 Wholesome Grains".
The cereal was described on the side of the box like this:
"NEW BREAKFAST WITH BARBIE CEREAL - LESS SUGAR THAN MOST KIDS CEREALS.
"We know you're concerned about what your kids eat. There's a lot of good for your daughter in New Breakfast with Barbie Cereal. It's made with 1) less sugar than most kids cereals; 2) all natural fruit flavors; 3) 4 wholesome grains - wheat, corn, oat and rice; and 4) no coconut or other tropical oils.
"But we all know what kids want - crunchy, fun-shaped, sweet-tasting cereal. Breakfast with Barbie is in fun shapes of your daughter's favorite Barbie things with just enough sugar and fruit flavor to taste great. Make Breakfast with Barbie cereal a part of a nutritious breakfast for your daughter! "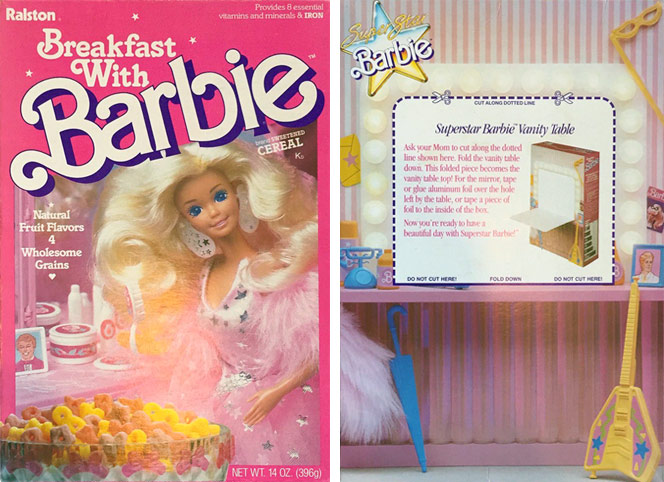 Multiple boxes were created for the cereal featuring different versions of the Barbie doll, such as Dance Club Barbie and Beach Blast Barbie. Some of the box variations were designed so that he cardboard could be cut and folded to create a Superstar Barbie Vanity Table. One version of the box featured a banner at the bottom to "Win A Real Diamond worth $4,000".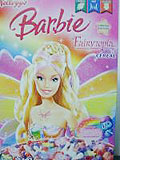 The ingredients listed on the nutrition panel were wheat, corn, oat and rice flour, sugar, partially hydrogenated vegetable oil, salt, natural flavors, color added, BHT and a smattering of vitamins and minerals.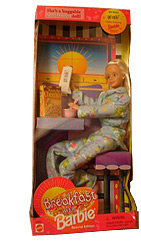 Years later, The Kellogg's Company introduced a limited edition cereal called
Barbie Fairytopia
. This cereal was part of marketing tie-in with the 2005 direct-to-video film "Barbie Fairytopia". This berry-flavored cereal consisted of red and purple heart pieces with marshmallows shaped like fairies and butterflies.
In 1999, the California Milk Processor Board and Mattel teamed up to create the
Breakfast With Barbie Doll
as part of the "GO MILK?" advertising campaign. The doll had no direct relationship to the cereal from the late 80's with the exception of sharing the same name.
Dressed in colorful pajamas, the Breakast With Barbie doll came with a miniature box of Honey Nut Cheereos, a milk carton and a bowl and spoon.
Click here
to see all cereals from Ralston.
This cereal belongs to the following Mr Breakfast Cereal Families:

---
Featuring: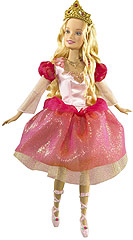 Barbie

The first Barbie doll was produced in 1959. It was the brain child of Ruth Handler and was named after Ruth's actual child, Barbara. The inspiration for the doll came from a German doll called Bild Lilli (produced from 1995 to 1964). In the fictitious world of dolls, Barbie's full name is Barbara Millicent Roberts.

It is estimated that there are over 100,000 serious collectors of Barbie dolls and ancillary products. Among collectors, cereal boxes for Breakfast With Barbie Cereal and Barbie Fairytopia Cereal are considered a rare find, especially if they still contain cereal.
---
Breakfast With Barbie Cereal Theater

Now Showing: 1989-90 Breakfast With Barbie Cereal Commercial
---
Additional Images
Four Breakfast With Barbie Boxes
Submitter: Mr Breakfast
Uploaded: 3/13/2008
Additional details
---
Comments About This Cereal
What do you think of Breakfast With Barbie?

Overall Average Rating = 4 (out of 5)

By Gothicmisha


| | |
| --- | --- |
| Cereal Rating (out of 5): | |

I ate this cereal growing up. There was also a reward point gimmick tied in the Barbie bath and beauty products that could get you limited edition stuff. I had two of the three Barbies they offered from the reward point system as well as the full size (3.4 oz bottle) Barbie perfume set they only gave away through the points system. I had all the dolls and even owned the infamous barbie mansion. Lol.

Comment submitted: 7/14/2018 (#23272)



By Crazy Prize

Why in the heck where they giving a kid a diamond worth 4 grand as a cereal prize?

Comment submitted: 11/9/2016 (#21032)



By Lionhearted


| | |
| --- | --- |
| Cereal Rating (out of 5): | |

I believe that this BARBIE cereal as well as the other 2 were for families with little girls, but without little boys. That's why I never did buy any of them.

Comment submitted: 10/15/2013 (#15055)



By Penny

I wanna have breakfast with Barbie! Adorable! The commercial is precious.

Comment submitted: 5/9/2011 (#4806)



By rambo

I have the Barbie doll still in the cereal bag, I was wondering if you can help me find someone who would knows the value. Please e-mail carollynn.jenkins I think it dates to 1955.

Comment submitted: 5/21/2010 (#2152)