Cereals from
Sunbelt

Sunbelt is a division of the McKee Foods Corporation, the same company that produces Little Debbie snack cakes.
According to Sunbelt's website, they "understand the outdoors and your busy lifestyle." They claim that this is particularly true because the company is "nestled in the heart of the Ocoee region of East Tennessee... With world-class rapids, numerous trails to hike, and plenty of rocks to climb".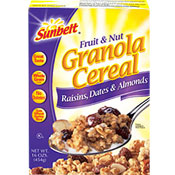 Cereal Spotlight:
Fruit & Nut Granola Cereal
Introduced in 1982
Sunbelt Fruit & Nut Granola Cereal (Raisins, Dates & Almonds) is a quality granola cereal that's usually sold for a much lower cost than similar cereals from more recognizable brands. In June of 2008, a 16 ounce box could be purchased for $2.19 in California...
Read More
More Sunbelt Cereals:
For more about Sunbelt, visit their
official website
.