A Cereals
64 cereals start
with the letter
"A"

CEREALS LISTED ALPHABETICALLY: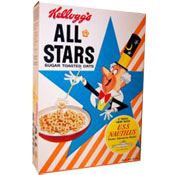 Featured "A" Cereal:
All Stars
This "Sugar Toasted Oats" cereal appeared in the early 1960's and lasted only a couple years before it was transformed into Frosted Sugar Stars (circa 1963) and eventually simply Stars Cereal (circa 1964). As the cereal name was changed so was the nature of the cereal pieces. The signature hole in the center of the star shape was filled in the later renditions of the cereal...
Read More
Other Featured "A" Cereals:






More Cereals That Start with "A"