A Cereals
64 cereals start
with the letter
"A"

CEREALS LISTED ALPHABETICALLY: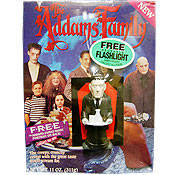 Featured "A" Cereal:
Addams Family
Addams Family Cereal was produced as a promotional tie-in for the 1991 film
The Addams Family
starring Anjelica Huston, Raul Julia and Christina Ricci. The box described the cereal as "the creepy, crunchy cereal with the great taste you'll scream for." The cereal pieces...
Read More
Other Featured "A" Cereals:






More Cereals That Start with "A"