Cereals from
Back To Nature

In 2010, the company's website described it history and philosophy: "It was 1960, in Pasadena, California when we decided the best way to move forward was to go back. Back to simplicity. Back to goodness. Back to what was real. Back to honest ingredients, unadulterated tastes, intriguing textures. Foods created for those who believe over-processing does not mark progress and artificial flavors rob from true taste. If this describes you, you'll understand why we think it's so important to go back. Back to Nature. Back to pure taste."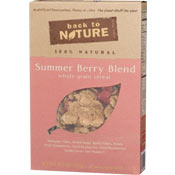 Cereal Spotlight:
Summer Berry Blend Cereal
Introduced in 2008
The front of the cereal box lists the following ingredients: multigrain flakes, brown sugar, barely flakes, honey, dried strawberries, dried raspberries, dried blackberries, vanilla extract and Vitamin E...
Read More
More Back To Nature Cereals:
For more about Back To Nature, visit their
official website
.