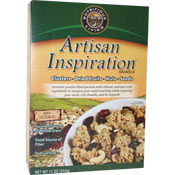 From: Nutritious Living
Introduced in 2008
A press release announcing the introduction of this product, dated March 14, 2008, described Artisan Inspiration like this:
"Capturing the essence of Nutritious Living's 40-year-old granola making heritage, Artisan Inspiration takes the indulgent experience of granola and infuses it with more than 14 whole food ingredients. Whole grain oats, raisins, cherries, dates, coconut, cashews, sesame seeds, sunflower seeds, pumpkin seeds and honey create a hearty and delicious blend perfect with milk, teamed with yogurt or eaten alone. Artisan Inspiration Granola provides 28 grams of whole grains per serving and is sodium free."
In early 2009, Nutritious Living's website gave this description of Artisan Inspiration:
"Artisan Inspiration captures the essence of our 40 year granola making heritage, taking granola to a whole new level! We use over 14 natural whole-food ingredients to produce this artfully crafted granola cereal. It is loaded with a variety of fruits, nuts along with three types of whole grain ingredients. The naturally nutty, fruity and wholesome taste combined with an excellent nutrition profile is a source of true inspiration! Enjoy this delicious and versatile food as a breakfast cereal, yogurt topping or nutritious snack any time of day!"
Company Description:
The founders of this company began making granola in the back of Pasadena, CA health food store in 1969. The cereal became so popular in the Pasadena area, they decided to reach for a broader customer base by partnering with a local bakery and moving their operations to a larger facility...
Read on and see all cereals from Nutritious Living
---
Comments About This Cereal
What do you think of Artisan Inspiration?
By CactusHeart

I can't rate this because I've never tried it, but DAMN does this look INCREDIBLY DELICIOUS!!! Jam-packed with fruits & nuts and, WHOA, look at those CLUSTERS! They look like BOULDERS! A dream come true! I'm SALIVATING! *lol* However it ALSO looks like it's discontinued, which is a shame as I could TOTALLY go for this cereal. Maybe I can find the ingredient list somewhere and make my own (which I often do with many products *lol* and am pretty good at it too if I may say so *lol*).

Comment submitted: 10/1/2009 (#672)