O Cereals
72 cereals start
with the letter
"O"

CEREALS LISTED ALPHABETICALLY: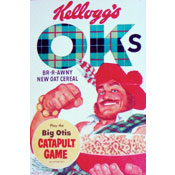 Featured "O" Cereal:
OKs
OKs Cereal was promoted as "the best in oats". The cereal pieces came in the shapes of the letters "O" and "K" and were said to taste similar the Cheerios. In fact, most cereal-historians believe OKs Cereal was a failed attempt by Kellogg's to nab some of the market from General Mill's very popular Cheerios...
Read More
Other Featured "O" Cereals:






More Cereals That Start with "O"