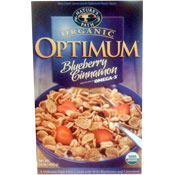 From: Nature's Path
Introduced in 2008
This cereal is described on the front of the box as "a delicious high fiber cereal with wild blue berries and cinnamon.
The back of the box in December of 2008 gave the following detailed description of the cereal:
"... so we decided to call our premium organic cereal line "Optimum". It's the best of what we know about cereal gathered into a collection of unique varieties; Blueberry & Cinnamon, Banana & Almond, Cranberry & Ginger and Slim. And they're the best way we know of to start your day.
"The Blueberry & Cinnamon variety you're holding now, starts with our popular Flax Plus flakes, then we blend in our protein "Twigs", Kamut wheat puffs, wild blueberries and cinnamon. All of them organic ingredients, of course, and all chosen for the way they bring out the best in all the rest; crunch meets zest, zest meets crispy, tart meets spice. Sweet. But not too sweet... you get the idea.
"Sure, we could pinch pennies and put together something less premium, less nutritious and less tasty. But that's not the way we do things around here. We make a big deal out of breakfast. And why wouldn't we? Like Mom always said, it's the most important meal of the day. And with Nature's Path Optimum, it could be the tastiest meal of the day too."
Click here
to see all cereals from Nature's Path.

Optimum - Blueberry Cinnamon Cereal has been reviewed on MrBreakfast.com.
Click here to read the review
.
---
Additional Images
Optimum Blueberry Cinnamon Box - Back
Submitter: Mr Breakfast
Uploaded: 12/12/2008
Additional details
Optimum Blueberry Cinnamon Box - Front
Submitter: Mr Breakfast
Uploaded: 12/12/2008
Additional details
---
Comments About This Cereal
What do you think of Optimum - Blueberry Cinnamon?
There are no comments yet for this cereal. Be the first! Was it good? Was it bad?
Do you have information not included in the article? Let the world know!