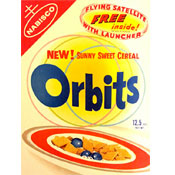 From: Nabisco
Introduced in 1959
"Sunny Sweet Cereal"
Despite the space-age name and space-inspired box graphics, this cereal looked remarkably similar to good ol' down-to-earth Chex cereals (produced by Ralston back then). We believe this cereal was primarily available in Canada. It was produced in Niagara Falls, Canada.
The following lengthy and fun description is taken directly from the cereal box:
"NEW: Spoon-sized cereal that's out of this world!
"NEW: K-K-Krunchy waffles that stay K-K-Krisp to the last bite!
"NEW: Breakfast fun from Nabisco, the makers of Shredded Wheat and Shreddies."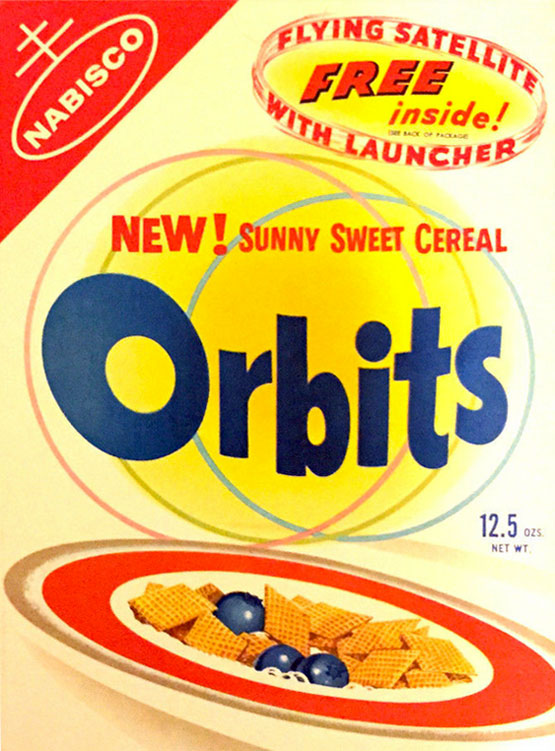 "The New Cereal Packed With The Power Of 4 Mighty Grains!
"Corn! Wheat! Rice! Oats! New Orbits are a combination of good things! In a way, they're just like rocket fuel - a scientific blend of different things for TOP POWER.
"In Orbits, they're called 'nutrients'. They're the special fuel your growing body needs every day. You get plenty of 'em in Orbits!"
"And boy, the flavor is out of this world! Orbits taste like ALL your favorite cereals rolled into one! What a breakfast! What a way to get top power!
"Reach For Orbits!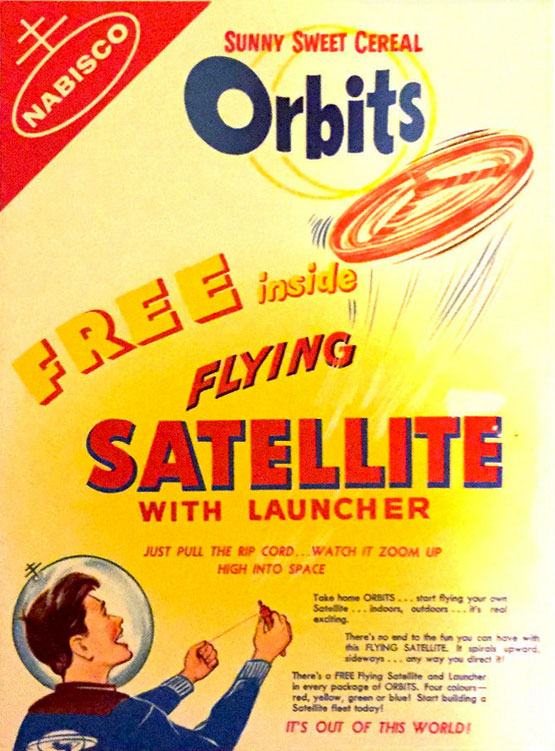 The box that we found had a Flying Satellite With Launcher free inside. "Just pull the rip cord... watch it zoom up high into space."
The ingredients in the cereal were wheat, corn, oats, rice, sugar, salt, cane syrup and a preservative consisting of lecithin, butylated hydroxyanisole and citric acid in propylene glycol.
Click here
to see all cereals from Nabisco.
---
Comments About This Cereal
What do you think of Orbits?
There are no comments yet for this cereal. Be the first! Was it good? Was it bad?
Do you have information not included in the article? Let the world know!