T Cereals
62 cereals start
with the letter
"T"

CEREALS LISTED ALPHABETICALLY: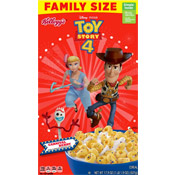 Featured "T" Cereal:
Toy Story 4
This cereal contains loop-shaped pieces covered in red and blue speckles. The flavor is described as "Carnival Berry." Upon it's release, there were 2 box designs: one primarily blue featuring the character Buzz Lightyear and another primarily red featuring characters Woody, Jessie and...
Read More
Other Featured "T" Cereals:






More Cereals That Start with "T"