T Cereals
61 cereals start
with the letter
"T"

CEREALS LISTED ALPHABETICALLY: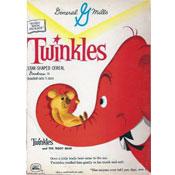 Featured "T" Cereal:
Twinkles
Twinkles was made up of oat and corn star-shaped pieces that were sprinkled with multi-colored jimmies. It's mascot was an orange elephant, also named "Twinkles".
The cereal was a tie-in with...
Read More
Other Featured "T" Cereals:






More Cereals That Start with "T"