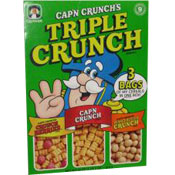 From: Quaker
Introduced in 1990
This uniquely-packaged 18-ounce cereal contained three bags of different Cap'n Crunch cereals: Crunch Berries, Peanut Butter Crunch and original Cap'n Crunch.
Company Description:
The Quaker Oats Company was founded in 1901 with the merger of three oat milling operations in the Mid-Western United States. Since then, the company has expanded operations to include a number of grocery sectors. In addition to hot and cold breakfast cereals, their products include...
Read on and see all cereals from Quaker
This cereal belongs to the following Mr Breakfast Cereal Families:

---
Additional Images
---
Comments About This Cereal
What do you think of Triple Crunch (Cap'n Crunch)?

Overall Average Rating = 5 (out of 5)

By Salute


| | |
| --- | --- |
| Cereal Rating (out of 5): | |

It was so good. I wish I could buy this and Halloween Crunch and Polar Crunch and Christmas Crunch and try then all again at the same time.

Comment submitted: 11/19/2013 (#15361)



By Jayfer


| | |
| --- | --- |
| Cereal Rating (out of 5): | |

I just loved the taste of all three in my mouth at once!!

Comment submitted: 12/17/2010 (#3452)





By Derekdespie (Team Breakfast Member)


| | |
| --- | --- |
| Cereal Rating (out of 5): | |

The original "CAP'N CRUNCH" cereal (which consists of nothing but the sweetened corn squares), CAP'N CRUNCH'S "PEANUT BUTTER CRUNCH" cereal (which consists of nothing but the peanut butter-flavoured corn cereal puffs), and CAP'N CRUNCH'S "CRUNCH BERRIES" cereal (which combines sweetened corn squares with five colourful fruity flavors of "crunch-berries" in pieces) will all be contained as three bags of different Cap'n Crunch cereals in one big box. It will be called CAP'N CRUNCH'S "TRIPLE CRUNCH" breakfast cereal (2011 edition), the 18-oz. uniquely packaged breakfast cereal that was being manufactured by THE QUAKER OATS COMPANY, and will return to all of its fine retailers anywhere nationwide around 2011.

Comment submitted: 8/30/2010 (#2756)





By Derekdespie (Team Breakfast Member)


| | |
| --- | --- |
| Cereal Rating (out of 5): | |

Around 2011, The Quaker Oats Company is unveiling the 2011 logo design of Cap'n Crunch's "Triple Crunch" breakfast cereal [2011 edition], which will look quite similar to those of the 2006 logo designs of three different Cap'n Crunch cereals. An image of the Cap'n Crunch character from the 2006 artwork of three different Cap'n Crunch cereals will appear on the 2011 artwork of Cap'n Crunch's "Triple Crunch" breakfast cereal.

The 2011 edition of Cap'n Crunch's "Triple Crunch" breakfast cereal will contain the following three bags of Cap'n Crunch cereals in one big box, here's a list.

* "Original Crunch" consists of nothing but the sweetened corn squares.
* "Crunch Berries" combines sweetened corn squares with five colourful flavors of crunch berry cereal puffs in pieces.
* "Peanut Butter Crunch" consits of nothing but the peanut butter-flavoured corn cereal puffs.

Comment submitted: 8/27/2010 (#2740)





By Derekdespie (Team Breakfast Member)


| | |
| --- | --- |
| Cereal Rating (out of 5): | |

Fruity & Cocoa Pebbles Double Pack, Cap'n Crunch's "Triple Crunch" Cereal, Apple Jacks & Froot Loops Double Pack, and General Mills Triple Pack Cereal (including Lucky Charms, Cocoa Puffs and Trix), and a fewer other breakfast cereal bundle packs are all returning to all of its U.S. retail stores - including Walmart, Costco, Target, and all others - by around early 2011.

Comment submitted: 8/27/2010 (#2735)





By Derekdespie (Team Breakfast Member)


| | |
| --- | --- |
| Cereal Rating (out of 5): | |

We have learned from The Quaker Oats Company that Cap'n Crunch's "Triple Crunch" breakfast cereal is returning to almost all of its U.S. stores by 2011, an 18-oz. uniquely-packaging breakfast cereal that will contain three bags of different Cap'n Crunch breakfast cereals in one box, here's a list.

* "Original Crunch" consists of nothing but the sweetened corn squares
* "Crunch Berries" combines sweetened corn squares with five colorful fruity flavors of "crunch-berry" cereal puffs in pieces.
* "Peanut Butter Crunch" consists of nothing but the peanut butter-flavored corn cereal puffs.

The 2011 artwork will feature this time in computer-animation, featuring the 2006 logo design and an image of the Cap'n Crunch character from 2006 that also appears in three most-popular varieties of Cap'n Crunch breakfast cereal line.

Comment submitted: 8/27/2010 (#2733)