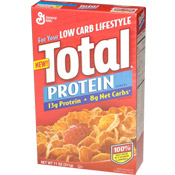 From: General Mills
Introduced in 2004
The following is from a press release about Total Protein Cereal from March 31, 2004:
New Total Protein Puts the Crunch Back in a Lower-Carb Breakfast

In response to consumer demand for reasonably-priced, lower-carb, higher-protein products that offer the nutrition and taste of traditional cereals, General Mills has introduced Total Protein, a vitamin-rich cereal for those following a low-carb lifestyle. With 100% of the Daily Value of 11 vitamins and minerals, eight grams of net carbs, and a hearty 13 grams of protein, Total Protein cereal is an easy way for consumers to moderate their carbohydrate intake, while enjoying the great taste and nutritional benefits of a familiar brand.

"Nearly 70% of consumers are limiting their carb intake, but finding foods that taste good and offer variety in their diets is challenging," said Peggy Stang, marketing manager for Total Protein at General Mills. "We have responded by introducing a cereal that gives consumers a good-tasting, wholesome option for a low-carb lifestyle and that also helps them get important nutrients they may be missing with popular low-carb diets."

About Total Protein

Available nationwide in March 2004, Total Protein consists of lightly sweetened toasted wheat flakes. Each 3/4 cup serving of Total Protein contains 13 grams of protein and eight grams of net carbs, as well as 100% of the Daily Value of 11 vitamins and minerals, including B-vitamins to help release energy, and antioxidant vitamins C and E to help maintain a healthy immune system. Total Protein follows the nutrition tradition established in 1961 with the introduction of Total cereal. Since Total was introduced more than 40 years ago for a "vitamin conscious public," the brand has continued to be a leader in meeting the nutritional needs of Americans.

"It is important that people follow a health plan that includes exercise and a healthy eating plan - and that includes some carbohydrates," said Helenbeth Reiss Reynolds, MPH, RD. "Consumers can miss out on key nutrients with some of the popular low-carb diets, and Total Protein is an excellent source of vitamins and minerals."

Consumer Trends

In creating the new variety of Total, General Mills also was responding to the following General Mills consumer research results:

-- Those monitoring carb intake want their favorite foods. New Total Protein provides consumers a good-tasting, lower-carb version of a mainstream General Mills cereal. And, it lets them enjoy a breakfast food many traditionally have considered "off limits" for low-carb diets.

-- Consumers perceive niche lower-carb products as poor-tasting and they are unwilling to make trade-offs for taste. Taste is important to the sustainability of diets. In taste tests conducted during product development, new Total Protein had significantly higher liking scores versus other lower-carb cereals tested and scored as high as a leading mainstream cereal favorite.

-- Consumers want options on the main aisles of grocery stores. New Total Protein will be shelved where convenient for shoppers - in the cereal aisle at major supermarkets.
Company Description:
Officially created in 1928, General Mills traces it's history back to the 1860's and the ownership of two flour mills. Since then, the company has become the world's 6th largest food company - marketing to over 100 countries...
Read on and see all cereals from General Mills
---
Additional Images
---
Comments About This Cereal
What do you think of Total Protein?
There are no comments yet for this cereal. Be the first! Was it good? Was it bad?
Do you have information not included in the article? Let the world know!