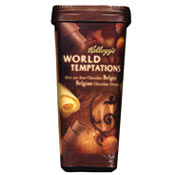 From: Kellogg's
Introduced in 1994
This gourmet cereal came in two flavors, French Vanilla Almond and Honey Roasted Pecan. The main cereal pieces in Temptations were crunchy corn flakes.
This is the official press release from November 11, 2004 announcing Temptations cereals:
Kellogg Introduces New Temptations Cereal; New Indulgence Cereal For The Sophisticated Palate
BATTLE CREEK, Mich.--(BUSINESS WIRE)--November 11, 1994--For those who desire the savory aromas and satisfying flavors of indulgence foods such as designer popcorns, specialty coffees and exotic-flavored yogurts, Kellogg USA introduces Kellogg's(R) Temptations(TM) cereal. The enticing new cereal is available in two irresistible flavors -- French Vanilla Almond and Honey Roasted Pecan.
"We believe that the taste of Kellogg's Temptations cereal will prove to be extremely popular with consumers -- especially those who look for indulgence in the foods they enjoy," says Alan Harris, executive vice president, sales and marketing, Kellogg USA.
Kellogg's Temptations French Vanilla Almond cereal is a delectable blend of light, crunchy flakes of white and yellow corn, natural almond slices and crispy clusters, all with a luscious French Vanilla coating. Kellogg's Temptations Honey Roasted Pecan cereal is a palate-pleasing combination of hearty flakes of toasted white and yellow corn and real honey roasted pecans. Both new varieties will be available in retail stores nationwide beginning in March of 1995.
These new taste sensations are a breakfast lover's delicacy and also make a sumptuous late afternoon or before-bed snack. In addition to delivering a bowlful of extraordinary taste for breakfast, Kellogg's Temptations cereals can add appetizing flavor and crunch to yogurt, cake and muffin mixes. Each variety also offers eight essential vitamins and minerals.
The introduction of Kellogg's Temptations cereals will be supported by an aggressive marketing plan, including heavy television and print advertising and national sampling efforts. Leo Burnett, Chicago, is handling the advertising campaign, which will focus on the product's innovative and "tempting new taste."
The launch of these new products is part of Kellogg's continued commitment to new product growth and follows on the recent introduction of Healthy Choice(TM) from Kellogg's(R) and Kellogg's(R) Pop Tarts Crunch(TM) cereals. This same commitment is demonstrated by the recent introductions of Kellogg's Rice Krispies Treats(R) Crispy Marshmallow Squares, Kellogg's Pop-Tarts Minis(TM) Pastry Snacks and Kellogg's(R) Eggo(R) Cinnamon Toast Waffles from Kellogg's Convenience Foods Division.
Kellogg USA, the world's leading breakfast cereal manufacturer, is headquartered in Battle Creek, Michigan.
###
In 2001, Kellogg's introduced World Temptations cereals to the U.K. Similar to the U.S. Temptations cereal, World Temptations was offered up as a premium, luxury cereal with the dual purpose of acting as a snack. That cereal came in three varieties: Belgian Chocolate Dream, Caribbean Fruit Carnival and Mediterranean Nut Medley.
The main image on this page is of World Temptations. If you have an image of the U.S. version, please upload it and we'll make it the primary image for this cereal. Thanks!
Click here
to see all cereals from Kellogg's.
---
Additional Images
World Temptations Ad And Containers
Submitter: Mr Breakfast
Uploaded: 3/13/2008
Additional details
---
Comments About This Cereal
What do you think of Temptations?

Overall Average Rating = 5 (out of 5)

By M.D.K.


| | |
| --- | --- |
| Cereal Rating (out of 5): | |

Absolutely the best snack-cereal of all time.

Comment submitted: 1/11/2019 (#23846)



By Angel-girl


| | |
| --- | --- |
| Cereal Rating (out of 5): | |

I used to buy at least 5/6 boxes of cereal at a time. This 'Temptation' (roasted pecan) was my all time favorite, no other cereal can come close to the way this cereal made me light up when I would see it on the shelf. I introduced it to my neighbor but she did not think that she would love it until she tasted it. She was hooked. I was extremely heart broken when I learned that the cereal was discontinued in my area. I have searched and searched for this cereal, but has been so unsuccessful in finding it. I would love to have at least 1 box of this awesome Temptation cereal again just to see if it still taste the same.

Comment submitted: 5/16/2018 (#23062)



By kenny


| | |
| --- | --- |
| Cereal Rating (out of 5): | |

Wow - so great to see this image. I live in Australia now but used to work for a Kellogg's ad agency in London and produced the ad campaign for the launch of this in the UK. Gee it was awesome - we would pig out on it all day in the office. The campaign you have here was shot in Blake's Hotel in London. Happy days! - Kenny Hill

Comment submitted: 4/23/2014 (#16970)



By Sher


| | |
| --- | --- |
| Cereal Rating (out of 5): | |

I miss them so much. I would pay twice the price to eat them again :(

Comment submitted: 5/11/2013 (#12002)



By s. andre


| | |
| --- | --- |
| Cereal Rating (out of 5): | |

I would do time for this stuff!!

Comment submitted: 5/5/2011 (#4789)



By greenlight


| | |
| --- | --- |
| Cereal Rating (out of 5): | |

It's just heavenly, like equivalent to ambrosia.

Comment submitted: 2/22/2011 (#3984)



By Pierre-Louis


| | |
| --- | --- |
| Cereal Rating (out of 5): | |

My point exactly. I still have dreams of the smell and taste. I wish they would bring them back even it was just during the holidays so I could stock on them.

Comment submitted: 5/29/2010 (#2207)



By fafnour

Best cereals ever! Why the hell did they stop selling them in France!!!!????

Comment submitted: 8/17/2009 (#332)