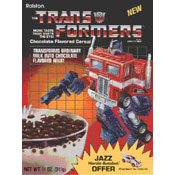 From: Ralston
Introduced in 1986
Transformers Cereal never made it to grocery store shelves. After the box (and presumable the cereal) were created, Ralston decided to scrap the cereal.
The Transformers line of toys were introduced in America by Hasbro in 1984. The toys were usually vehicles that could be turned into a robots by twisting and turning certain parts of the toy. With the help of an animated Transformers television series, the toys became very popular in the mid-eighties.
Within two years, the popularity of the toys and the TV series began to wane. It's presumed that Ralston foresaw the Transformers fad loosing steam and decided to end their new cereal before it began.
If the cereal had actually gone into production, our listing for the cereal would look something like this (based solely on test box produced):
This chocolate flavored cereal was promoted on the box as having "more taste than meets they eye". While a majority of chocolate cereals did the same thing, Transformers Cereal made a capitalized point of saying "TRANSFORMS ORDINARY MILK INTO CHOCOLATE FLAVORED MILK!"

On the box, a half-truck / half-robot character (known to Transformer fans as Optimus Prime) is shown holding a gun to a bowl of the cereal, alluding to the idea that the Transformer character might be responsible in some way for transforming ordinary milk into chocolate milk. It's also possible that the character's gun shoots round chocolate cereal pieces. The narrative behind the image is unclear.

Know premiums: A send-away offer for Jazz Heroic Autobot Transformer toy.
Click here
to see all cereals from Ralston.
This cereal belongs to the following Mr Breakfast Cereal Families:

---
Additional Images
---
Comments About This Cereal
What do you think of Transformers?

Overall Average Rating = 5 (out of 5)



By captain america (Team Breakfast Member)


| | |
| --- | --- |
| Cereal Rating (out of 5): | |

The Transformers looked pretty cool and it's really great Optimus Prime is on the cover of box since he's the most popular transformer and the fan favorite like He-Man, Lion-O, Duke, Mario and Tommy from Power Rangers. He's a brave warrior and the best. It deserves to be made along with Ninja Turtles, the Real Ghostbusters and Nintendo cereal.

Comment submitted: 8/14/2020 (#25415)





By super cool drag (Team Breakfast Member)


| | |
| --- | --- |
| Cereal Rating (out of 5): | |

Transformers is one of my favorite eighties cartoon shows along with he-man, g.i. joe and tmnt and I would love it if there were new toys of it and a crossover of it and star wars. Also of mlp equestrian girls and a new animated movie of it and it always deserves a reboot.

Comment submitted: 3/20/2020 (#24997)





By optimus (Team Breakfast Member)


| | |
| --- | --- |
| Cereal Rating (out of 5): | |

I love Transformers. This cereal should be on sale. It would be very good and chocolaty.

Comment submitted: 8/8/2019 (#24398)





By captain a7 (Team Breakfast Member)


| | |
| --- | --- |
| Cereal Rating (out of 5): | |

The Transformers cereal should've made it to the markets in the first place since Transformers deserve love and respect. I always compere it to things like Star Wars and other stuff that are sci fi. My favorite transformer happens to be Optimus Prime. He is the fan favorite he knows how to lead the Autobots and he is the true leader and commander of the Autobots. In the toy line, he was reborn as a PowerMaster and I started calling him the Primester and the Hulk Hogan of Transformers . He is a brave a warrior and he is brave enough to fight evil. Hhis weapons are a blaster and an axe and I'm sure he can also use a hammer and a shield and knows how to use the Autobot matrix of leadership and that's what makes him so cool.

Comment submitted: 7/31/2019 (#24373)



By Jess


| | |
| --- | --- |
| Cereal Rating (out of 5): | |

It should come back on sale because it's so cool with retro style.

Comment submitted: 10/12/2018 (#23599)



By reed


| | |
| --- | --- |
| Cereal Rating (out of 5): | |

Cool! I'd buy this if I ever saw it. Transformers rule!

Comment submitted: 5/12/2013 (#12010)



By megatron


| | |
| --- | --- |
| Cereal Rating (out of 5): | |

Oh my, how the years have lost some of the great food products.

Comment submitted: 8/3/2012 (#8701)



By Captain Retro

'Transforms ordinary milk into chocolate milk!' - Okay, that's clever. Why didn't they make it strawberry flavored and have it turn the milk pink, kinda like energon? Also, I have a question: Has anyone ever heard of a Masters of the Universe cereal? I knew Mattel had some premium offers with already existing cereal, but did he-man ever have his own cereal? (A boo-berry version for Skeletor would have been awesome!)

Comment submitted: 11/17/2011 (#5778)



By Sw33t2eat


| | |
| --- | --- |
| Cereal Rating (out of 5): | |

I wish they'd make a cereal for the Transformers movies. I mean... like... why not?

Comment submitted: 9/28/2009 (#651)